KREATOR Announce First Ever Date In India
April 13, 2012, 7 years ago
German thrash titans KREATOR have announced they will perform for the first time ever in India, on Saturday, June 16th at Bangalore Open Air in Bangalore. For festival details visit this location.
A short snippet of the title track of Kreator's upcoming album, Phantom Antichrist, can be heard below:
Kreator have announced a listening party for their new album, Phantom Antichrist, on June 1st at 8 PM, at Endzeit in Essen, Germany. An event page can be found at this location.
Kreator will release Phantom Antichrist, the band's debut for Nuclear Blast, on June 1st (Europe), June 5th (North America).
The following formats of the album are now available for pre-order:
- Jewel Case CD *
- 2LP Yellow Vinyl *
- 2LP Bi-Coloured Vinyl (Red/Black): limited to 500 copies, hand numbered *+
- 2LP Picture Vinyl **
- CD/DVD Digi Limited Edition: 2 digipacks in a slipcase **
- Limited Mailorder Edition: metallic box including CD/DVD Digi Ltd. Edition, t-shirt, exclusive CD Live In Wacken, poster, signing card, limited to 500 copies, hand numbered **+
* - Featuring Artwork by Wes Benscoter (DIO, BLACK SABBATH, SLAYER)
** - Featuring Artwork by Jan Meininghaus
+ - only available at www.nuclearblast.de/shop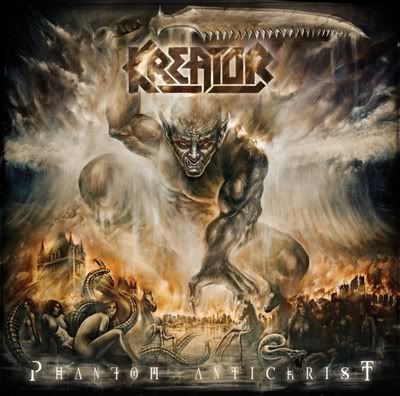 Furthermore, the songs of the sold out 7" vinyl single, 'Phantom Antichrist', are available as digital download via iTunes, Amazon and various other download shops. The single artwork can be seen below:
Phantom Antichrist was produced at the famous Fascination Street Studio with renowned producer Jens Bogren (OPETH, KATATONIA, SOILWORK, DEVIN TOWNSEND, AMON AMARTH) in Örebro, Sweden.
The tracklist for Phantom Antichrist is as follows:
CD:
'Mars Mantra'
'Phantom Antichrist'
'Death To The World'
'From Flood Into Fire'
'Civilisation Collapse'
'United In Hate'
'The Few, The Proud, The Broken'
'Your Heaven In My Hell'
'Victory Will Come'
'Until Our Paths Cross Again'
'Iron Destiny' (Japan exclusive)
Limited Edition Bonus DVD:
Live At Wacken Open Air 2011:
'Choir Of The Damned'
'Hordes Of Chaos'
'War Curse'
'Coma Of Souls' / 'Endless Pain'
'Pleasure To Kill'
'Destroy What Destroys You'
'Phobia'
'Terrible Certainty' / 'Reconquering The Throne'
'Flag Of Hate' / 'Tormentor'
Live At Wacken Open Air 2008:
'The Patriarch'
'Violent Revolution'
'People Of The Lie'
'Europe After The Rain'
For more details visit Kreator-terrorzone.de.