KREATOR - Phantom Antichrist Tracklisting Revealed
March 28, 2012, 6 years ago
Legendary German thrashers KREATOR will release their new album, Phantom Antichrist, the band's debut for Nuclear Blast, on June 1st (Europe), June 5th (North America).
The tracklist of the album reads as follows:
CD:
'Mars Mantra'
'Phantom Antichrist'
'Death To The World'
'From Flood Into Fire'
'Civilisation Collapse'
'United In Hate'
'The Few, The Proud, The Broken'
'Your Heaven In My Hell'
'Victory Will Come'
'Until Our Paths Cross Again'
'Iron Destiny' (Japan exclusive)
Limited Edition Bonus DVD:
Live At Wacken Open Air 2011:
'Choir Of The Damned'
'Hordes Of Chaos'
'War Curse'
'Coma Of Souls' / 'Endless Pain'
'Pleasure To Kill'
'Destroy What Destroys You'
'Phobia'
'Terrible Certainty' / 'Reconquering The Throne'
'Flag Of Hate' / 'Tormentor'
Live At Wacken Open Air 2008:
'The Patriarch'
'Violent Revolution'
'People Of The Lie'
'Europe After The Rain'
Phantom Antichrist was produced at the famous Fascination Street Studio with renowned producer Jens Bogren (OPETH, KATATONIA, SOILWORK, DEVIN TOWNSEND, AMON AMARTH) in Örebro, Sweden. Below is the artwork for the limited edition of Phantom Antichrist. The limited edition will be made available as two-disc digipack, including a bonus DVD.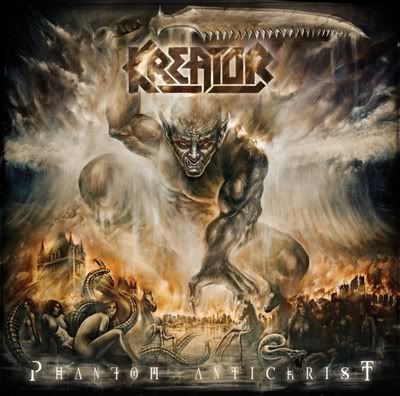 Kreator will release an exclusive 7" single of the title track on April 20th. The collector's item will be available in coloured red vinyl (limited to 250 pieces) as well as in clear vinyl (limited to 250 pieces), exclusively available at the Nuclear Blast Mailorder. The single artwork can be seen below:
For more details visit Kreator-terrorzone.de.