MAIDEN UNITED - Across The Seventh Sea Tracklisting, Cover Artwork Revealed
June 29, 2012, 8 years ago
MAIDEN UNITED, the all-acoustic IRON MAIDEN tribute project featuring Damian Wilson (THRESHOLD, HEADSPACE) and Ruud Jolie (WITHIN TEMPTATION) has revealed the tracklisting and cover artwork for the upcoming album Across The Seventh Sea, which will be released in September on CD, limited edition vinyl and as digital download.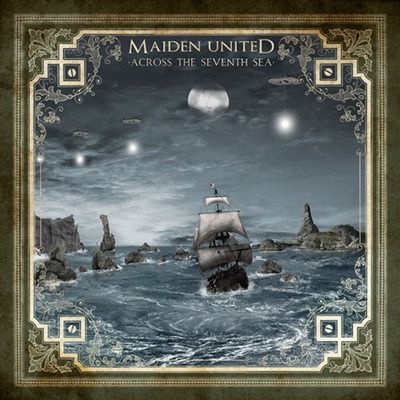 Across The Seventh Sea tracklisting:
'Seven Deadly Sins'
'Only The Good Die Young'
'2 Minutes To Midnight'
'Prowler'
'Flash Of The Blade'
'Children Of The Damned'
'Infinite Dreams'
'22 Acacia Avenue'
'The Evil That Men Do'
'Wasted Years'
The cover artwork (above) for the CD was once again created by Blacklake, who also worked with Maiden uniteD on their first studio album Mind The Acoustic Pieces.
Contributing artists:
- Damian Wilson (Threshold, Headspace): vocals
- Ruud Jolie (Within Temptation): guitar
- Joey Bruers (UP THE IRONS): bass
- Marco Kuypers (CLOUDMACHINE): piano
- Mike Coolen (Within Temptation): drums
For more information go to MaidenuniteD.com.