MEGADETH Start Pre-Production On New Album Tomorrow
August 22, 2012, 6 years ago
MEGADETH are about to start work on the follow-up to 2011's Th1rt3en with producer Johnny Karkazis (MACHINE HEAD, DISTURBED).
Says leader Dave Mustaine: "Johnny K. is arriving tomorrow to start pre-production on our new record. This should be a very interesting record."
The band's studio album is expected in late 2012/early 2013.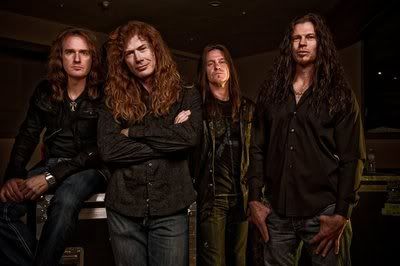 Th1rt3en sold 42,000 copies in the United States in its first week and debuted at number 11 on the Billboard 200, a slight fall from the first-week sales (about 45,000 copies) and chart position (number 9) of its predecessor, Endgame. A BraveWords.com review of Th1rt3en can be viewed here.
Artisan News Service Conducted an extensive interview with Dave Mustaine during the band's tour with ROB ZOMBIE earlier in the year. In the interview Mustaine talked about his spine and neck surgery; the band's approach on the latest tour in regards to their new album Thirteen; thoughts on METALLICA's anniversary; answering James Hetfield's request not to talk about Metallica; his views on politics and the election; being maligned for his views; and more. Watch the interview below:
Dave Mustaine spoke exclusively with Infowars to try and clarify his statement made during a concert in which he suggested the Obama administration could have staged the Colorado and Sikh shootings as a pretext to eviscerate the second amendment – pointing out that's precisely what the administration was caught doing with the Fast and Furious scandal.
"I'm a patriot, I love our country, I've always been controversial, I'm a political songwriter and this wasn't done to hurt any of my fellow countrymen – I think that it's something we really really need to look into," concluded Mustaine.
Watch the video below:
At Megadeth's August 7th performance at Fort Canning Park in Singapore, Mustaine addressed the audience as follows: "Back in my country, my president (puts finger down throat) ... he's trying to pass a gun ban, so he's staging all of these murders, like the Fast And Furious thing down at the border and Aurora, Colorado, all the people that were killed there. And now the beautiful people at the Sikh temple. I don't know where I'm gonna live if America keeps going the way it's going because it looks like it's turning into Nazi America."

Check out the video below: