MEGADETH's Dave Mustaine Looks Back On Writing Countdown To Extinction Album - "I Was Reading A George Carlin Book At The Time Of 'Sweating Bullets'"
November 7, 2012, 4 years ago
MEGADETH frontman Dave Mustaine recently spoke with ArtistDirect.com about the band's Countdown To Extinction album, which was released as a special 20th Anniversary box set on November 6th by Capitol/EMI. An excerpt is available below:
Q: What's the first thing that comes to mind when you think of Countdown to Extinction now?
Mustaine: "It was very fun (laughs). The world was different back then. There were some very peculiar moments like when the curfew happened after the Rodney King riots. Something like that happens once in a person's lifetime, and you have to live through it consistently. Those things are rare."
Q: What books were you reading at the time?
Mustaine: "Well, the title track—if that's what you're alluding to—and going from that down the family tree of the record, was a Time Magazine story. Nick Menza read it. He handed it to me and asked me to turn it into a song. I did. For 'Foreclosure of a Dream', David Ellefson read a book called Farmer in the Sky. He's from a farming background so it probably piqued his curiosity. For me, a lot of what showed up lyrically was different. To give you an example, I was reading a George Carlin book at the time of 'Sweating Bullets', believe it or not. 'Symphony of Destruction' didn't come from a book; it came from watching The Manchurian Candidate. I was thinking about 'Skin o' My Teeth' on the way home from a very anxious dental appointment. 'High Speed Dirt', I was skydiving at the time. I'd done an interview with someone, and the person said that I skydived. I never said that (laughs). I said, 'I'd like to skydive.' I thought, 'You know what? I should probably check it out.' I went skydiving, and the guys from MTV Headbangers Ball found out about it and we had a huge party. Riki Rachtman came out. He went skydiving with us. It's a fun sport. It's not something I want to do nowadays because I'm older, and I'm a parent. At the time, it was really fun. There's so much pressure right now in society with the way people just attack each other. It's so weird how tense everyone is. I don't know if it's the economy or what."
Q: What's your experience like listening to the record now?
Mustaine: "Playing it is one thing. Listening to it is another. When I listen to it, I think, 'What was I reading then? What were we going through?' Take the chorus of 'Symphony of Destruction'. I found a martial arts instructor I liked, and I started training with him. I'd been with him for a while, and one day, I was driving to get lunch. For some reason, I wanted sushi. Maybe I thought I was David Carradine (laughs). Who knows? You finish karate and go have sushi, right? I wrote on the back of the receipt from the sushi restaurant, 'My head explodes. My brain corrodes.' That's where it started. The feeling of this record reminds me of how meticulous we were doing it too. When we had the guitars patched into strobe tuners, we'd bend up until where the tuner would stop dead if we were doing any solos with bends in them. It was crazy stuff like that. We were doing it to tape too."
Read the entire interview at this location.
As previously reported, Mustaine has personally overseen the new 20th Anniversary Edition of the band's most popular album.
Presented in a 2CD lift-top box and digitally, Countdown To Extinction's new commemorative edition pairs the remastered original album with a 1992 concert, recorded live at San Francisco's Cow Palace, which has never before been released in its entirety. The concert audio has been newly remixed for this release. The physical and digital versions both include a booklet with a new liner notes essay by music journalist Kory Grow, and the 2CD box also contains a 24" x 36" poster and four collectible postcards.
Countdown To Extinction, Megadeth's fifth studio album, was recorded in Los Angeles in 1992 as rioting raged across the city in response to the Rodney King trial verdicts. American tensions weren't limited to LA, by any means, as the Gulf War was still fresh in people's minds, the state of the environment was becoming headline news, and President George H.W. Bush was seeking reelection in a heated campaign season. Out of this turmoil, Megadeth was inspired to create Countdown To Extinction, considered by many to be the band's best and most accessible album. The group's previous albums, including So Far, So Good…So What! and Rust in Peace, included songs that tackled topics like censorship and religious bloodletting in the Middle East. But none were as polemical as the sonic missiles launched by 'Countdown'. Megadeth laced the songs with acid-tongued commentary about subjects ranging from the futility of war ('Architecture Of Aggression') to the senseless brutality of caged hunting ('Countdown To Extinction'). 'Foreclosure Of A Dream' sampled George Bush's infamous "Read my lips" speech, making a statement about taxation endangering the American Dream.
Thanks to a perfect balance of hard-rock song structures, epic choruses, and fleet-fingered guitar work, Countdown To Extinction became an instant classic, benefiting from copious MTV and radio play. Before long, songs like 'Symphony of Destruction', 'Sweating Bullets', and 'Skin O' My Teeth' had entered metal's canon of essential recordings. The album shot to #2 on the Billboard chart (it may have hit #1, if not for BILLY RAY CYRUS' long chart-topping reign with Some Gave All), and it was certified double Platinum in the US within two years, with sales of more than two million copies.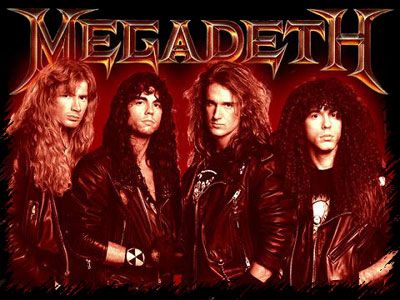 Megadeth was in top form, with Mustaine, the band's then 31-year-old singer and guitarist leading the album's assault with lyrics like "You know your worth when your enemies praise your architecture of aggression," not to mention his venomous rhythm guitar attack. His band mates completed the picture, as lead guitarist Marty Friedman blazed with memorable solos, bassist David Ellefson jammed dizzying arrays of low-end thunder, and drummer Nick Menza attacked his kit. Megadeth sounded hungry, and the band was rewarded when the album earned a Grammy Award nomination (Best Metal Performance) and when its title cut garnered a Genesis Award from the Humane Society for raising awareness for animal rights issues.
Countdown To Extinction (20th Anniversary Edition) tracklisting:
CD 1:
'Skin O' My Teeth'
'Symphony Of Destruction'
'Architecture Of Aggression'
'Foreclosure Of A Dream'
'Sweating Bullets'
'This Was My Life'
'Countdown To Extinction'
'High Speed Dirt'
'Psychotron'
'Captive Honour'
'Ashes In Your Mouth'
CD 2 - Live At Cow Palace, 1992:
'Intro'
'Holy Wars... The Punishment Due'
'Skin O' My Teeth'
'Wake Up Dead'
'Hangar 18'
'Countdown To Extinction'
'Foreclosure Of A Dream'
'This Was My Life'
'Lucretia'
'Sweating Bullets'
'In My Darkest Hour'
'The Conjuring'
'Tornado'
'Ashes In Your Mouth'
'Symphony Of Destruction'
'Peace Sells'
'Anarchy In The UK'