MICHAEL SCHENKER - Photo Gallery And Setlist From Madrid Show Available; UK Tour Kicks Off Today
May 8, 2012, 5 years ago
MetalSymphony.com has posted photos from MICHAEL SCHENKER's May 3rd show at Sala Arena in Madrid, Spain. Also available are pictures of support act KARELIA. Check out the material at this location.
Schenker's setlist on the night, loaded with SCORPIONS ands UFO songs as well as solo material, was as follows:
'Into The Arena'
'Armed And Ready'
'Lovedrive' – Scorpions
'Another Piece Of Meat'
'Cry For The Nations'
'Let Sleeping Dogs Lie'
'Coast To Coast' – Scorpions
'Assault Attack'
'Before The Devil Knows You're Dead'
'Lights Out'
'On And On'
'Let It Roll'
'Shoot Shoot'
'Rock You Like A Hurricane'
'Rock Bottom'
—————-
'Holiday'
'Blackout'
'Doctor Doctor'
Schenker recently announced four UK Temple Of Rock concerts in May 2012. This marks the first time Schenker's touring band will feature two ex-Scorpions members – Herman Rarebell (drums) and Francis Buchholz (bass).

A new message from Schenker states: "It's Temple Of Rock and Lovedrive Reunion time! I am very much looking forward to performing songs from my Lovedrive with the Scorpions, with original Scorpions members Herman Rarebell and Francis Buchholz on this upcoming Europeon Tour, as well as playing many of my classics from the past with UFO and MSG and new stuff from the Temple Of Rock album with the great Doogie White on vocals. It's going to be a blast."
Schenker also announced VIP Meet & Greet ticket packages for all four shows (listed below). Go to this location for details.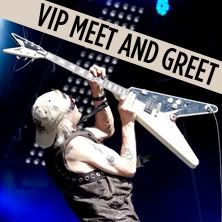 The May 2012 UK tour dates are as follows:
May
9 - Wolverhampton - The Wulfrun
10 - Manchester - HMV Ritz
11 - Glasgow - O2 ABC
12 - London - O2 Shepherd's Bush Empire
The UK concerts will feature a plethora of hits spanning Michael Schenker's colourful career. Songs to be performed by the Temple of Rock line-up include UFO's 'Rock Bottom' and 'Doctor Doctor', MSG's 'Armed and Ready' and 'Into The Arena', Scorpions classics 'Another Piece Of Meat' and 'Rock You like a Hurricane', plus new songs from the recently released Temple of Rock album 'Miss Claustrophobia' and 'Before the Devil Knows You´re Dead'.
Schenker will be touring the Temple Of Rock album with different lineups all around the world. He will feature each of the three singers from the brand new album: Michael Voss, Robin McAuley and Doogie White.
As previously reported, Blackdiamond of Firebrand Rock Radio and Metal Shock Finland has issued an exclusive interview with Schenker, recorded when he was in London. Schenker discusses the Temple Of Rock album amongst other things.
When asked about working with various different musicians on the new album, Temple Of Rock", Michael said: "I didn't have any of those things planned. At the time I was working on a touring project with Herman Rarebell and Pete Way and I was also looking for a studio to make a new record. Michael Voss offered his studio, so I asked him to help me out with vocals and when I heard him I said 'wow he can sing!' so I asked him to join me, then Pete and Herman wanted to join in. So I then thought it would be great to have musicians I worked with in the past and they were all available."
Listen to the interview below:
Michael Schenker Interview 16/01/12 by BLACKDIAMOND
Schenker's new song, 'Miss Claustrophobia', from Temple Of Rock, can be heard in the YouTube clip below: