MÖTLEY CRÜE's Nikki Sixx Reveals Another Clue - "The Hint Couldn't Be Any Clearer If It Was The Nose On Your Face"
November 29, 2011, 5 years ago
MÖTLEY CRÜE's Nikki Sixx has issued the following update:
"Your guesses were good for something else, but not for this... If we went back in "history" and it was a rattlesnake it would of bit you in the ass. The hint couldn't be any clearer if it was the nose on your face... Let me make this clearer for you... :)... Any ideas now?"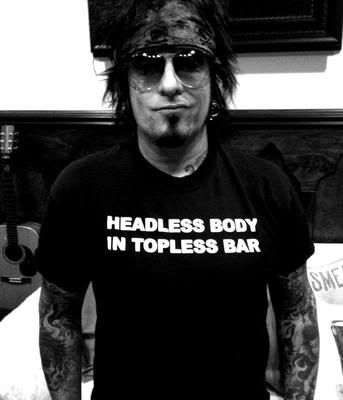 Mötley Crüe earlier issued the following statement:
"Big announcement coming later this week... tune in to Piers Morgan Tonight on CNN Thursday and Friday night 9pm Eastern / 6pm Pacific to see it! Until then... we're revealing some clues. Here's the first one... check back tomorrow for the next one."
In live news, DEF LEPPARD, MÖTLEY CRÜE and STEEL PANTHER are teaming up to rock The UK next month. Confirmed shows are as follows:
December
6 - Birmingham, UK - LG Arena Birmingham
8 - Nottingham, UK - Capital FM Arena Nottingham
9 - Glasgow, UK - SECC Hall 4
11 - Manchester, UK - M.E.N. Arena
13 - Sheffield, UK - Motorpoint Arena Sheffield
14 - London, UK - Wembley Arena