MPIRE OF EVIL Guitarist Jeff "Mantas" Dunn - "I Was Very Tunnel Visioned When I Was Younger; Heavy Metal, That's All I'd Play"
April 17, 2012, 5 years ago
UK-based MPIRE OF EVIL - featuring foormer VENOM members Tony "Demolition Man" Dolan (bass/vocals) and Jeff "Mantas" Dunn (guitarist) spoke with Mike Bax at Lithium Magazine when the band hit Toronto on their recent North American tour with ONSLAUGHT. An excerpt from the interview is available below: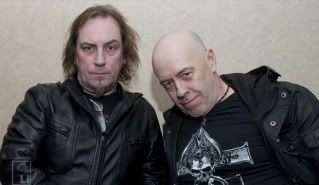 (photo by Mike Bax)
Mike: Even now, if you play the old Venom stuff in retrospect, you can hear a different momentum. It was different from the new wave of British heavy metal bands.
Jeff: "This interviewer… we just said, 'Look, if this is what you're calling heavy metal, then every band that has got long hair and a guitar is put into this heavy metal box of sorts. We don't feel that we fit in there at all, you know?' The obvious question afterwards was, 'What are you then?' It just came out: Black Metal. That was it. It wasn't conscious or contrived. We didn't think we were going to start a whole new sub-genre of music. It was none of that. It was a statement to individualize the band and to alienate us from everybody else. We were always in the Northeast there was a great body of NWOBHM bands - TYGER, RAVEN and FIST. We were always the outsiders. That's what we did it for. If we were on the outside of things even in our hometown, lets just alienate ourselves – be totally arrogant and get away from the whole thing, you know? But we had no clue that subsequent bands would do what we did with BLACK SABBATH and JUDAS PRIEST and KISS and MOTÖRHEAD – take all of their influences and put it in a pot and try and be more extreme than them. Then all of these other bands come along and take what we're doing and they play faster than us – heavier – until it's evolved. Again, I always say this: 'Without evolution comes extinction'. As far as I'm concerned now, my personal point of view is that a band like DIMMU BORGIR – they're at the top of the black metal trade - modern black metal. I think modern black metal has got absolutely nothing to do with what we started."
Mike: It's all evolved. There's been a lot of change.
Jeff: "It has evolved into something different. I don't necessarily agree with him, but Cronos said in an interview that all of these bands should have come out with a name like 'corpse-pain' or something, but again, its evolution. If you listen to early Priest, or Sabbath or LED ZEPPELIN or stuff like that – metal has evolved. Priest has evolved. Rocka Rolla onto Painkiller? Something's got to have happened during those years. And on the new album, I've gone even further back. I wrote a track called 'Devil'. It's a big, dirty, heavy blues track. It's got slide guitar and all that kind of stuff on it. It owes a lot to Robert Johnson and Crossroads and all the other blues players. I had the first couple of lines and then myself and Tony; we came up with the lyrics and the first couple of ideas for the song. Basically what I'm saying with this song is Venom created black metal before there was Black Metal. Before that there was Black Sabbath and BLACK WIDOW. If you go way, way, way back, there is some guy on the porch wailing about the blues. Everything comes from the blues. All I wanted to do was show that as you get older you start appreciating where things come from, you know? I was very tunnel visioned when I was younger - heavy metal, heavy metal - that's all I'd play. What else is more extreme than that, right? You start to embrace different things. You start to go back to where it all came from. Guaranteed, every music fan will do that at some point in their life. We've had young kids at the shows here – kids who weren't even born when Welcome To Hell came out — they're turning up in Venom shirts and I'm signing old Venom CDs for them. And more interesting is fathers bringing their sons out to our shows."
Go to this location for the complete interview.
Dunn (ex-VENOM) recently checked in following the band's recent North American tour supporting UK brethren ONLSLAUGHT:
"What can I say? Twenty-one shows, no days off, 8400 road miles. Sleep? What's that?
I fucking loved every minute of it!
From the bottom of my heart, thank you to every single one of you who came out to our US and Canadian shows. You guys were awesome Maximum respect to you all! See you again very soon."

The band has since posted over 300 photo from the tour on their official Facebook page. Click here to check out the gallery.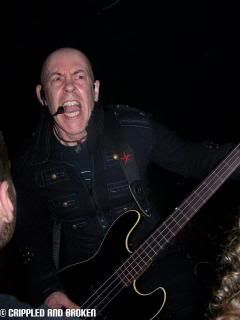 Following is an excerpt from BW&BK; 's recent interview with Mpire Of Evil bassist/vocalist Tony Dolan, also an ex-Venom member:
Mpire Of Evil's debut album, Hell To The Holy, shines due to the fact that Dolan and Dunn weren't trying to recapture or outdo their Venom past. It's a different beast, rooted in traditional metal with thrash-like tendencies rather than trying to cash in on the classic Venom's satanic MOTÖRHEAD vibe.
"We were interested in seeing how people responded," says Dolan. "Because it's the three of us, we knew everyone was thinking it's going to be another Venom record. In some corners people were screaming for that. We had some great album reviews at the very start, which was wonderful, but I remember reading a review from one black metal journalist that just ripped the shit out of it. He said the album was a piece of shit, it sucked, it was fucking pedestrian, it's boring, and I came away from it saying 'Thank fuck for that.' Yes, we're not black metal, and if we or the record company had tried to put us in that box we would have been sunk. This is more traditional metal, yes, but we just took a different approach to it."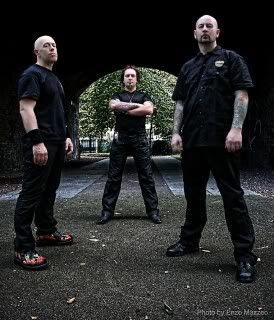 With over 30 years in the trenches, Dolan has paid his dues and is well aware of how quickly and completely the music industry can rip artists to shreds depending on the cards being played. He freely admits to being apprehensive about getting back in the game yet again, but when asked if Mpire Of Evil has fulfilled his expectations, he can only laugh.
"Funnily enough, yes. I'm really loving this more than I thought I would. When I was younger and doing this, ATOMKRAFT had limited success. We had shit distribution, so if people can't hear you they don't know you're around, and when you turn up in town opening for a band everyone knows they want you to get it over with really quick. That causes a problem, but Atomkraft enjoyed that aspect of it because we had to turn it over every single time. It was never easy for us, we always had to work really hard and we never took it lightly. The thing is, when that's all going on you don't realize how much fun you're having, so when you look back there'll be holes in it. You think 'Fuck, why didn't I take my time?' It's like eating the best steak you've ever had at a restaurant and just wolfing it down. It's just a memory after that, and you always want to go back there to have another one and eat it really slowly. When you do get back it's different; they put the steak in front of you and it's just not the same. I've found the restaurant and it's going to be the same steak, only this time the chef's a little bit better than he was (laughs). This steak's going to be so much juicier and I'm going to eat it really, really slow (laughs)."
Go to this location for the complete interview.