MR. BIG's BILLY SHEEHAN Stays Addicted To That Rush - "There Isn't A Day That Goes By That I Don't Get An Email Or Comment About Eat 'Em And Smile"
March 29, 2012, 5 years ago
By Mitch Lafon
MR. BIG has always been on the cusp of breakthrough success in North America, but in Japan they're revered as musical Gods. Leading the way for the band, and considered by many to be the best bassist, is Billy Sheehan. He sat down with BraveWords.com to discuss the band's latest offering (the live acoustic album Live From The Living Room), his time with VAN HALEN's David Lee Roth, his current musical projects and clarifies TALAS reunion rumors.
BraveWords.com: Mr. Big - Live From The Living Room is great. When the band is 'plugged-in' with Paul Gilbert and yourself - it roars, was it a challenge to strip the songs back acoustically?
Billy Sheehan: "There's a difference between playing through a clean amp quietly and through a big amp with all kinds of distortion. They both have their pluses and minuses especially for Paul. A guitar solo on an acoustic guitar is a lot more difficult than doing it on an electric guitar. It's very unforgiving, so it does take an adjustment on our part. When we go out to do promo tours and stuff, we end up doing a lot acoustically and we hang out backstage with acoustic guitars and such, so we end up playing a lot. This is not completely foreign to us - singing and playing acoustic instruments quietly is something we do a lot of off stage. So, when we perform like that it does take some adjustments, but it's not something  completely different for us. You have to step back and think through what you're going to do because there's no giant amp behind you."
BraveWords.com: What strikes me the most about Mr.Big is your place in the market. In North America you do well, but in Japan it's like Beatlemania. There is such a love for the band over there which is also shown by how many live albums you've recorded there.
Sheehan: "There is a reason for that. Our Japanese label from our very first tour said, 'it'll be another year until we see you again, so can we record one of your shows and put it out'. The label wanted a memento for the fans until we came back with out next record."
BraveWords.com: But there's a lot more than just one...
Sheehan: "Just about every record we've done live is from Japan, but if it wasn't put out - it was bootlegged. I've got bootlegs of every tour we've done in Japan. Almost every show."
BraveWords.com: What is going on with the band right now. Your last album What If came out in 2010. Are you recording a new one now?
Sheehan: "No. We're just hanging out. We don't do well at planning. It's not our forte, so we just let nature take it's course. We played a lot of shows last year (right up to Christmas time) and we said 'let's talk later in 2012.' That's where were at, but everybody is cool. Everybody is friends. So, we'll see what's shaking later on in the year. Maybe we'll do a record... I don't know."
BraveWords.com: The important word there is 'friends'. There was a long period of time that you couldn't use that word to describe the band.
Sheehan: "Absolutely. I would never deny that we ended the whole thing on a negative, but time went on and we all moved on. Looking back at it - we ran the numbers of good times versus bad times and the good times dwarfed the bad. We realized that and we got back together, but we want to keep it 'good times' and so we don't necessarily want to get ourselves back on the album-tour-album-tour forced scheduling. Plus, we're not money motivated. We don't want to go out and just keep thrashing it to score as much cash as we can. Everybody is fine and doing well. We don't need to go out and do something that would be against our better judgement because 'we need the cash'."
BraveWords.com: So, the band, now,  is more about making music.
Sheehan: "Absolutely, Mitch."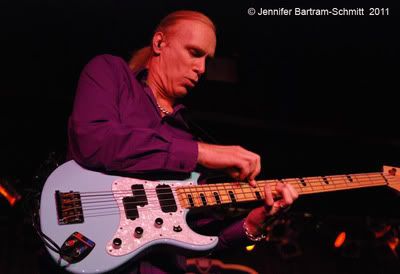 BraveWords.com: Last time, we sat down for an interview you were promoting your 'Compression' album and your last solo album was 'Holy Cow' in 2009. The question being what are your current solo plans or any plans outside of Mr. Big? Are you working with Steve Vai?
Sheehan: "Yeah, we just did tracks for NIACIN. We'll be finishing that off in the next couple of weeks. I'm going to do a tour with Mike Portnoy, Tony Macalpine and Derek Sherinian - a European tour in October."
BraveWords.com: With Derek Sherinian? Is that a PLANET X tour?
Sheehan: "No, it's just me, Mike, Tony and Derek."
BraveWords.com: Is it an all instrumental tour?
Sheehan: "We're just playing various stuff. A couple of Tony songs, a Bruford piece - which is pretty progressive. We did it at the NAMM show. We also taped it for a drum DVD that Mike Portnoy is doing. We know these songs and thought 'why not book some shows?'. So, we'll go out in October to Europe and maybe South America as well."
BraveWords.com: Does this project have a name?
Sheehan: "I don't think it does. We just show and play."
BraveWords.com: Do you envision turning this into an album at some point?
Sheehan: "It's just a fun thing. I love to play. I love to play live and I'll play at almost any opportunity I get. So, this is one of those opportunities and I love playing with Mike. Tony is one of my favorite people in the world. Derek I didn't know as well, but I really enjoyed playing him. He does such a guitar-ish thing on his keyboards. It's cool and I really like it a lot."
BraveWords.com: Will you be recording more with Steve Vai in the future?
Sheehan:  "I'm sure there's a chance. I talk with Steve often and see him a lot. Both of our schedules are usually askew, but at one point they'll align. I'd love to do anything with Steve at any time. He's a dear friend. I have great memories of playing a lot of shows all over the place with him and it was great."
BraveWords.com: The G3 stuff was great...
Sheehan: "Yeah. We did G3 in Australia, America, and Europe. Then I went with Steve and we did headline shows everywhere. You name it, we went."
BraveWords.com: Last time you played with Talas was in '98 or '99. Any chance of playing with the band again?
Sheehan: "It was '98 or '99. We'll probably do a one-off. We'll do it primarily to play, of course, but also to hang out. We've had so many dear friends asking us. So, we want to make sure everybody knows and they can fly in to Buffalo and we can hang. We're really looking forward to having a reunion, but not only of us - of all our old timer friends that have been in the audience for decades. It should be a great great time."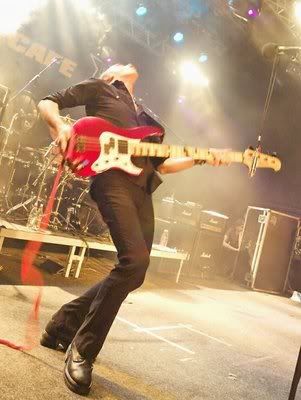 BraveWords.com: When would this happen?
Sheehan: "This summer. We're working up the details now and I'll post everything I can on Twitter, Facebook, MySpace and my much over-do for a rebuild for a web site: www.billysheehan.com"
BraveWords.com: Years ago Talas opened up for Van Halen. You wrote the song 'Shy Boy' with Talas and it ended up being recorded by David Lee Roth and you joined his band. Have you followed Van Halen's current tour and new album and do you still speak to David?
Sheehan: "I haven't spoken to him in a while, but we're certainly on friendly excellent terms. I'm glad for him that he's in Van Halen. I wish it were the original line-up. I miss not seeing Michael Anthony, but good for Eddie; he's got his son in there and that's cool. I'm a fan and it really would have been great to... Everybody is in good health and it would have been great. There's no excuse... Mr. Big ended on a negative. We pulled it all together and are having a great time. I just wish other people could do the same, but unfortunately it didn't work out that way. I wish them well just the same, but I haven't followed. I saw a snippet of 'Tattoo'. They looked good and seemed happy. So, I'm glad for them. I love all those guys. Their music and that band is a great part of my life in a lot of ways, so I hope they do great."
BraveWords.com: Eat 'Em And Smile was one of the best albums of 1986. The song 'Yankee Rose' sounds as fresh today (in 2012) as it did in 1986...
Sheehan: "That's very kind of you to say. If it does sound 'fresh, it's because it really was 'fresh'. When we went in and made that record it was real. We wrote together it a room. We hung out together. We recorded it together live in a room. It was all the real thing. That's how real records were made back in the day. That's why I think it lives to this day. There isn't a day that goes by that I don't get an email or comment about Eat 'Em And Smile. Whether it's Indonesia, Peru or wherever I travel, people have that record..."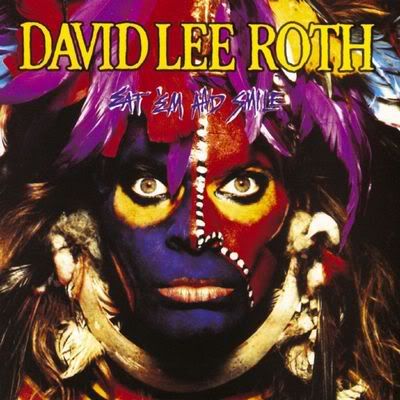 BraveWords.com: Would you like to be given the chance to play those songs live again with that band?
Sheehan: "ABSOLUTELY! I'd love to."
BraveWords.com: Were you involved in the Spanish version of that album (Sonrisa Salvaje)?
Sheehan: "Yeah - that was me and Dave. We sang the whole thing. It was my idea, but later on it turned into his manager's idea because they thought it was a good idea."
BraveWords.com: Well, he gets paid to come up with the ideas...
Sheehan: "No kidding, but I remember coming home on a flight from New York City after we were done doing the recording for Eat 'Em And Smile. There was this article about what huge percentage eighteen year olds (the perfect age for rock fans) made up in Latin/South America. I knew David spoke a little Spanish and I thought 'we should do the album in Spanish'. It would be great. So, we did. At the time, MISSING PERSONS were in the studio at night and we went in during the day. I was using Dale Bozzio's mic and there was always her lipstick and perfume smell on the windscreen. Terry's crazy electronic drums were set up. David coached me phonetically... When we played 'Shy Boy' this year in South America, we threw in a few 'Tímido, Tímidos'."
BraveWords.com: I listen to that album every so often and musically it's fantastic, but as an Anglophone it's a kicker to hear 'Loco Del Calor' instead of 'Goin' Crazy'
Sheehan: (Laughs) "I love it. I don't know how well the album did because it's hard to track things like that, but I must have signed hundreds of them in South America."
BraveWords.com: In case you weren't aware, Sonrisa Salvaje is scheduled to be remastered and re-released in Europe this year.
Sheehan: "I did not know that."
BraveWords.com: I'd really like a remastered version of the English Eat 'Em And Smile...
Sheehan: "You know, there's a couple of bonus tracks they could put on Eat 'Em And Smile and the original tour was shot professionally. There's video and I've got it!"
BraveWords.com: One more question about Sonrisa Salvaje. Did you simply sing over the existing tapes or did you also re-record the music?
Sheehan: "We just re-did the vocals."
BraveWords.com: Back to Mr. Big. Will you bring the Live From The Living Room acoustic tour to Canada or the United States?
Sheehan: "Not to my knowledge, but now that we have released different versions of things - we have those alternates to go to in our live show. Nobody's heart was more broken then ours when we didn't get a date in Toronto or Canada. A lot of people don't know, that we don't choose where we play. We only go where the promoters book us. We try and push as best as we can, but if no promoter takes it - there's nothing we can do. We need work permits, etc. We can't just fly in to Australia and play... or Canada or any other country. The documents we had to sign to play in Mexico were unbelievable. The visas, tax, and all the things we had to do to go play there... You can't just walk in to a place and play. So, unfortunately we did not get a gig in Canada and we were not happy about it."
BraveWords.com: It's great that you mention that because the fans always give the bands the grief, but it's not always your fault for not playing somewhere or 'you didn't release the Eat 'Em And Smile live show on DVD'. They don't always realize the issue of rights, mechanicals, promoters, etc... Is that sometimes frustrating for you?
Sheehan: "It is. It's very frustrating. I often answer the emails I get with 'why would we not want to play in a place filled with people cheering for us and get paid a lot of money to do so?' Why would we say 'no' to that? I'll play anywhere other than some place where there is a shooting war going on. In fact, we did play in a place in India where there was a shooting war happening and the local politicians got the people who were shooting at each other to knock it off for a few days so that we could play. That's a true story! So, we'll play anywhere and I love Montreal. Toronto is like a second home to me. Back in the day, we got all our cool clothes from Toronto. I've been to Australia seven or eight times - it's incredible. There's no place I wouldn't want to play. It makes us sad to see the itinerary and 'there's no Canada'. We could have done Vancouver or Edmonton..."
BraveWords.com: Mr. Big's last album was What If - is there a point or reason to put out new music? You could certainly tour successfully on the back catalogue.
Sheehan: "It's not necessary, but we took a chance. Had it been sucky then things would not have been as easy for us. There would have been less shows booked that I can assure you. It was a roll of the dice. It had been a long time and the whole world has changed, but let's give it a shot... I think we did the record that we should have done. It was all a chance - getting Kevin Shirley to work with us. There was some tension there - good tension and when it finally came out... Who knew? But I think, it's the best reviewed album that I've ever put out with anyone."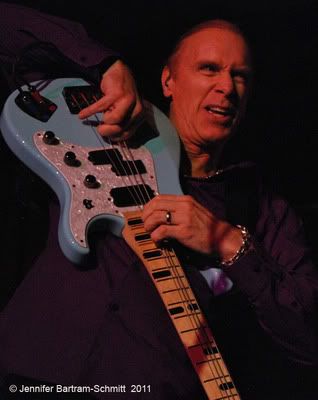 BraveWords.com: But as a musician, you NEED to put new music out, right?
Sheehan: "Oh, absolutely. Even if it's doing unusual, artistic or abstract... Something. I write a lot. I'm writing constantly and in all directions too. I've never been into playing it safe. We (Mr. Big) did take a chance by putting out a record. We could have been pilloried or crucified quite easily. I've seen bands get together and put out a record after many years get crucified. Mercifully, Kevin Shirley came up with the right way to do it and we had the right songs at the right moment... The winds were blowing the right way and 'bang' there it was. We certainly didn't try to plan out or form the record in any way. We didn't know how..."
BraveWords.com: And that would have been a disaster. Any album that is paint-by-numbers...
Sheehan: "I hate that."
BraveWords.com: Musically, you have taken a lot of chances with Niacin, Talas, David Lee Roth's band... You've covered almost every genre. Is there any genre that you would avoid or is there any that you'd like to get to  soon? A country album perhaps or maybe a pure classical album?
Sheehan: "I've had great players play on some of my solo records. I had Billy Gibbons, Paul Gilbert and Dug Pinnick on my last one (Holy Cow). The classical stuff? I don't know. That's for real musicians. I don't know if I could..."
BraveWords.com: C'mon - you're a 'real musician'. As far as bass players go, you're probably in the top three of all time.
Sheehan: "Thank you, but still classical music is very demanding. I listen to a lot of classical and play a lot of pieces on bass. The Brandenburg concertos, a lot of Bach and various other things. So, I would love to, but boy that would be a high tension moment."
BraveWords.com: Isn't that part of the excitement? To get that rush.
Sheehan: "Oh yeah."
BraveWords.com: Aren't you addicted to that rush?
Sheehan: (Laughs) "You're right. I am addicted to that rush. Somebody mentioned to me recently about doing something with the Buffalo Philharmonic and that would be pretty cool, but we'll see. And I've always been anti-country music. I've always hated country music, but for some reason I started to get into Johnny Cash, but he's not as much country as he is just an incredible character."
BraveWords.com: Well, Johnny Cash crosses boundaries...
Sheehan: "He certainly does. That record he did with Rick Rubin."
BraveWords.com: The one with Trent Reznor's Hurt...
Sheehan: "Unbelievable. What a masterpiece! Brilliant. So, I usually don't say no to any genre and in my iTunes now are 155 000 songs or 820 GB. It's all finely tuned. There's nothing in there for no reason and they go all over the stylistic map."
BraveWords.com: It would be interesting to hear you tackle something with the Buffalo Philharmonic or even a country tune. 'To Be With You' is a couple of twangs and a fiddle away from being a country tune.
Sheehan: (Laughs) "Just need to sing it with a southern accent." (Sings it.)
BraveWords.com: That goes to show it could work... Where can people find you online?
Sheehan: "Billysheehan.com."
BraveWords.com: Always a pleasure...
Sheehan: "Great speaking with you again and let's stay in touch."
For more visit Mrbigsite.com.