NIGHTWISH Offering Free Merchandise With Official Webshop Orders Until End Of May
May 15, 2012, 5 years ago
Finland's NIGHTWISH have checked in with the following update:
"In case you missed the news, we're giving away free items on Nightwish Shop orders with value over €30 ('Storytime' CD single digipak) or over €60 (high quality 'Master Passion Greed' beach towel + 'Storytime' CD single digipak). This offer is valid until the end of May or while stocks last. Place your order now!"
Go to the band's official webshop here.
Metal-Trails.net recently posted a photo gallery from the band's May 3rd show in Hamburg, Germany at the O2 World Arena. Go to this location for the complete gallery. They have also issued a half-hour interview with Nightwish bassist/vocalist Marco Hietala, conducted earlier that same evening. Check it out below: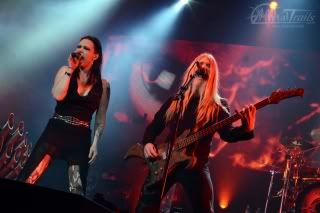 Photo by Arne Kowalewski
On August 8th, Nightwish will debut their Imaginaerum feature film to fans with a special showing at the Hartwell Arena. The 11,000 capacity arena has hosted previous Nightwish live gigs, but this would be the largest movie premier in Finnish history.
Nightwish recently released the first trailer for the Imaginaerum movie, a music fantasy film based on the Nightwish album of the same name, and it's 13 songs.
Check out the movie trailer below:
The movie's official website can be found at Imaginaerum.com.
After their last show on the first part of the Imaginaerum tour in Stuttgart, Germany, Nightwish received three sales awards from their label Nuclear Blast:
Imaginaerum – Gold Award (for more than 100,000 sold copies in Germany)
Dark Passion Play – Platinum Award (for more than 200,000 sold copies in Germany)
Once - Triple Gold Award (for more than 300,000 sold copies in Germany)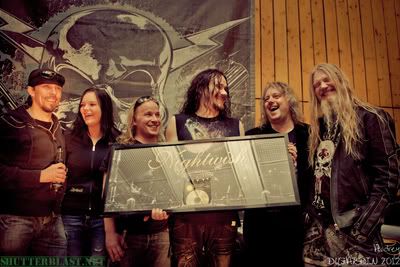 Mainman Tuomas Holopainen: "These three awards for Once, Dark Passion Play and Imaginaerum represent the purity of our music making, loyalty of the fans, and hard work and trust from the record label and management. We are deeply touched and grateful, and will continue to tread the chosen path with you all."
Andy Siry, head of A&R; and label manager of Nuclear Blast: "Nightwish rightfully stand at the very top of the winner's podium, brave every trend with their music and go ahead with their style consistently with much blood, sweat and tears. Each and every Nightwish album is a masterpiece and the awards substantiate that the fans acknowledge and honour the band's class and sincerity. We're very proud that we've been able to make our contribution to their success and are looking forward a lot to our shared future."