NIGHTWISH Singer Anette Olzon Talks About Imaginarium - "I Think Everything Sounds Amazing, Better Than Dark Passion Play"
May 16, 2011, 9 years ago
NIGHTWISH singer Anette Olzon conducted an interview recently about the band's upcoming album, Imaginarium, with Swedish newspaper Helsingborgs Dagblad. Here are a few excerpts from the chat:
Helsingborgs Dagblad: How did the recording of your vocals go (recently at Petrax Studio in Helsinki).
Olzon: "It went really well and really smooth. We didn't need all of the 10 days, only eight and there were no stress at all. I know the songs really well and came well prepared which helps a lot."
Helsingborgs Dagblad: How does it sound?
Olzon: "I think everything sounds amazing. Better than Dark Passion play, in my opinion."
Helsingborgs Dagblad: What's your schedule for the summer and autumn?
Olzon: "Next week I am gonna have my debut as a lecturer for three days in a so called 'culture week' in Nynäshamn. I'm gonna speak in front of a lot of high school students about my journey from an insecure teenager to a world famous singer. Then I'll just spend the summer with my children all summer before we start to record our movie Imaginarium in August (the movie is a part of the album and will be directed by Stobe Harju). In October and November we'll do a promotion trip for the album and then rehearsals in December. More than that I haven't planned at the moment."
Helsingborgs Dagblad: You're having your world premiere of your tour in the beginning of next year. What are your feelings about that?
Olzon: "It'll be fun and this time I'll bring my youngest son and partner on the journeys and that's a new thing. The tour will be shorter and I think all of us in the band will feel much better because of that."
Nightwish's' new album, Imaginarium, is scheduled to be released early in 2012, followed by the movie after an indefinite time. The first single off the album as well as the trailer for the movie should appear well before the end of the 2011.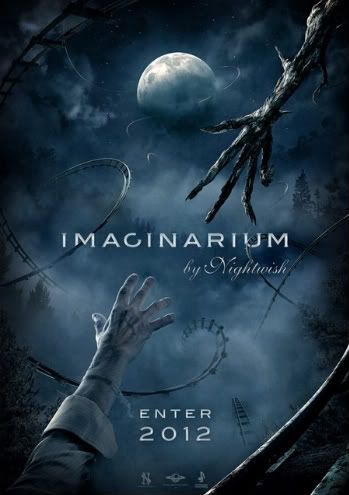 Nightwish recently announced that the very first show for the Imaginarium World Tour will take place at the Gibson Amphitheatre in Universal City, CA, on Saturday, January 21st, 2012.
This will be the biggest Nightwish show production ever on North American soil and strictly a one-off - there will be no US tour until later in 2012. Ticket sales will begin soon.