NIGHTWISH Vocalist Anette Olzon On Using Stand-In Vocalists For Denver Show - "I Was Never Asked If It Was Okay; I Don't Think It Was A Good Decision"
September 30, 2012, 8 years ago
On Friday, September 28th NIGHTWISH took the stage at the Ogden Theatre in Denver, CO without vocalist Anette Olzon, who was hospitalized due to illness. Support act KAMELOT's backing vocalists Elize Ryd (AMARANTHE) and Alissa White-Gluz (THE AGONIST) stepped in to fill Olzon's role alongside bassist/male singer Marco Hietala.
Olzon released a statement (found below) explaining the situation, and followed it up a day later with her take on having Elize and Alissa stepping-in for her.
"I am so sorry that I couldn't be on stage yesterday in Denver. I got very ill the night before and first went to the ER in the morning and was there for five hours before they released me with some painkillers and thought it was a kidney stone. Unfortunately I got worse at 7PM in the evening and started vomiting heavily and my fever rose. After talking to the hospital they said I should cancel the show and come straight back in to the ER. I was there all night and I was very dehydrated so they gave me two litres of fluid though an IV, they did blood tests, ultrasounds on my kidneys and finally a CT scan. These tests didn't show why I was so ill but probably the stomach pain has a connection with me having the flu or just stress. They did find something else though and for that I'm grateful. If I didn't do the scan I wouldn't know there's a big cyst in my liver and I need to go check it out ASAP at home. I do feel better today but still fever cough and a very sore throat but hopefully I can be on stage tonight, even if it means shorten the set list. Thanks for your time to read this! Enjoy this day!"
Olzon's additional post:
"And one more thing.... I was never asked if it was okay they used Elize and Alissa in the show last night. I don't think it's a good decision they made and I'm sorry for those of you who came to see the whole band but got something else. But I was very ill and this decision wasn't mine. Tonight I'll be on stage doing my best despite illness :-)
Thanks for your support! And you know, this is just music. Like life, sometimes we get ill and shows do get cancelled. Rihanna wouldn't ask Britney Spears to sing for her if she was ill. To think a show is more important than the humans in the band is for me, so totally not in this world."

Footage from the show is available below:
Nightwish are currently on the road in North America supporting their latest album, Imaginaerum. Remaining dates on the tour are as follows:
October
1 - Showbox SoDo - Seattle, WA
2 - Crystal Ballroom - Portland, OR
3 - The Warfield - San Francisco, CA
5 - The Grove - Anaheim, CA
6 - House of Blues - San Diego, CA
7 - The Marquee - Tempe, AZ
9 - Diamond Ballroom - Oklahoma City, OK
10 - Emo's - Austin, TX
11 - House Of Blues - New Orleans, LA
13 - Revolution - Ft Lauderdale, FL
14 - House of Blues Lake Buena Vista - Lake Buena Vista, FL
Nightwish's highly anticipated Imaginaerum film will see general release in theatres in Finland on November 23rd. Check out the official poster below:
Olzon recently saw the Imaginaerum movie and issued the following comment: "I have seen the Imaginaerum movie for the very first time, people. And I can just say that I really liked it! I cried in the end (yeah, sensitive as I am) and it was just amazing to see it all finally finished."

The soundtrack for Imaginaerum, will be released on November 9th. Imaginaerum By Nightwish: The Score features 13 grandiose, unreleased re-interpretations of Imaginaerum tracks by Petri Alanko.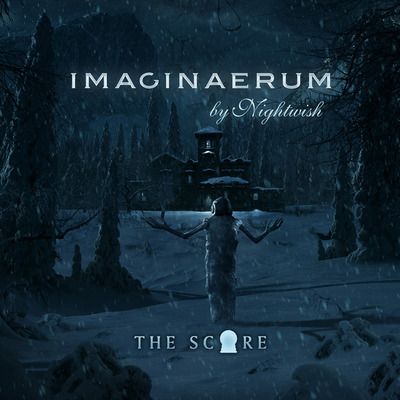 The tracklisting:
'Find Your Story'
'Orphanage Airlines'
'Undertow'
'Spying In The Doorway'
'A Crackling Sphere'
'Sundown'
'Wonderfields'
'Hey Buddy'
'Deeper Down'
'Dare To Enter'
'I Have To Let You Go'
'Heart Lying Still'
'From G To E Minor'
Audio samples can be heard below:
Imaginaerum By Nightwish: The Score is currently available for pre-order via the official Nightwish shop, found here. It will be available viaAmazon.com soon.