OPETH - Heritage Bonus Track 'Pyre' Streaming; Hot Topic Pre-Order Launched
September 16, 2011, 7 years ago
The special edition of OPETH's latest CD, Heritage, includes a DVD with an hour-long documentary about the making of the album. It's narrated by Mikael Åkerfeldt, and it's hilarious as well as informative. (Seriously, it's worth it just to see the hat Fredrik Åkesson wears while tracking guitars.)
The disc also includes two bonus tracks, 'Pyre' and 'Face In The Snow'. Footage of Opeth performing 'Pyre' on Swedish television recently surfaced online, and now you can hear the studio version exclusively at Hot Topic's website, where you can pre-order Heritage or shop for other Opeth merchandise.
'Pyre' is also streaming in the YouTube clip below:
Opeth appeared on the popular morning show, Nyhetsmorgon, which airs in their homeland on TV4. The band performed 'Pyre'. Check out video footage below:
Opeth are gearing up for the September 20th release of Heritage. It is now available for streaming in its entirety courtesty of NPR.org here.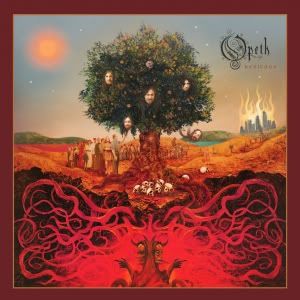 Opeth's roots in the doom-laden shade of occult-infused Scandinavian death metal and dark romanticism are undeniable and will never elicit apology. But the transcendent emotional and melodic heights achieved on the brilliantly titled tenth full length album, Heritage, marks a new chapter in the storied quintet's career. Band leader, singer, guitarist, songwriter and long-running consistent member Mikael Åkerfeldt has reshaped the pathway forward for his artistic vehicle without sacrificing the hard won spiritualism of previous endeavours.
Heritage Deluxe Collector's Edition Box Set Includes:
- Double-LP set of Heritage with exclusive lenticular artwork (180-gram virgin vinyl in gatefold jacket)
- Custom gatefold jacket that houses the Heritage special edition CD/DVD set (includes 2 bonus tracks, 5.1 audio mix of album and 'making of Heritage' documentary)
- Exclusive 7" of 2 bonus tracks
- Litho print of album cover
- Oversized 16-page booklet with exclusive photos and artwork
- All content housed in custom slipcase
- Receive a digital download of the album the day BEFORE release and an instant grat of lead track, 'The Devil's Orchard'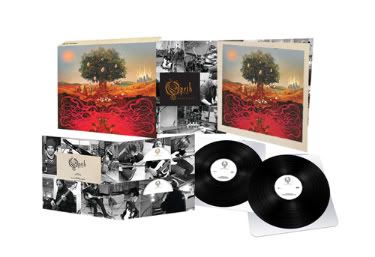 CD:
'Heritage'
'The Devil's Orchard'
'I Feel The Dark'
'Slither'
'Nepenthe'
'Häxprocess'
'Famine'
'The Lines In My Hand'
'Folklore'
'Marrow Of The Earth'
'Pyre'
'Face In The Snow'
DVD:
Includes 2 bonus tracks, 5.1 audio mix of album and 'making of Heritage' documentary
LP:
Side 1:
'Heritage'
'The Devil's Orchard'
'I Feel The Dark'
Side 2:
'Slither'
'Nepenthe'
'Häxprocess'
LP 2:
Side 1:
'Famine'
'The Lines In My Hand'
Side 2:
'Folklore
'Marrow Of The Earth'
7":
Side A:
'Pyre'
Side B:
'Face In The Snow'