ROB ZOMBIE Reveals Mondo Sex Head Artwork
July 2, 2012, 8 years ago
On August 7th, Universal Music Enterprises (UMe) will release ROB ZOMBIE's Mondo Sex Head, featuring new and unique remixes of Rob Zombie classics by some of today's top DJs, including KORN's Jonathan "JDevil" Davis, Photek, the Bloody Beetroots, Drumcorps and Ki:Theory. The album artwork can be viewed below: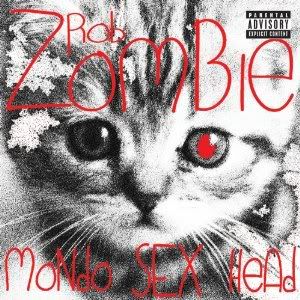 Zombie recently spoke to RollingStone.com about Mondo Sex Head, an excerpt follows:
Why are you doing this now? What's different this time?
"I've made records like this in the past, but over the years it seems like the interest in this type of thing had waned... so I stopped for a while. But recently I had been hearing how a bunch of the new DJs and mixers were using my stuff in their shows and mixes. So I figured the demand had returned. Everything old is new again, I guess. I let the remixers run wild. If I like it. I use it. If I don't, I skip it."
Mondo Sex Head tracklisting:
White Zombie - 'Thunder Kiss '65' (JDevil Number Of The Beast Remix)
'Living Dead Girl' (Photek Remix)
'Let It All Bleed Out (Document One Remix)
'Foxy Foxy' (Ki:Theory Remix)
White Zombie - 'More Human Than Human' (Big Black Delta Remix)
'Dragula' (††† Remix)
'Pussy Liquor' (Ki:Theory Remix)
'Lords of Salem' (Das Kaptial)
'Never Gonna Stop' (Drumcorps Acid Remix)
'Superbeast' (Kraddy Remix)
'Devil's Hole Girls' (Tobias Enhus Remix ft. The Jane Cornish String Quartet)
'Burn' (The Bloody Beetroots Motherfucker Remix)
'Mars Needs Women' (Griffin Boice Remix)
Each track was hand-selected by Rob Zombie who road-tested many of the songs in his car, driving the LA streets.