RUSH - Time Machine DVD/Blu-Ray Due In September
June 10, 2011, 6 years ago
According to MusicTap, on September 27th, Concord Records will release RUSH's new live release titled Time Machine on DVD and Blu-ray.
The show is most likely Rush's April 15th performance at Quicken Loans Arena in Cleveland which was filmed by Banger Films, the Toronto based film production company which has produced films such as Metal: A Headbangers' Journey, Global Metal, IRON MAIDEN: Flight 666 and most recently the Rush Documentary: Beyond the Lighted Stage.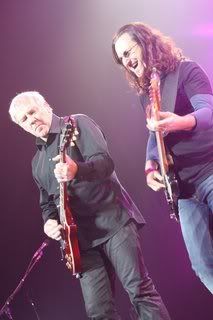 Rush's setlist featured selections from their treasured catalog and the full performance of their legendary Moving Pictures album.
First set:
'The Spirit of Radio'
'Time Stand Still'
'Presto'
'Stick It Out'
'Workin' Them Angels'
'Leave That Thing Alone'
'Faithless'
'BU2B'
'Freewill'
'Marathon'
'Subdivisions'
Second set:
'Tom Sawyer'
'Red Barchetta'
'YYZ'
'Limelight'
'The Camera Eye'
'Witch Hunt'
'Vital Signs'
'Caravan'
Drum Solo ('Love 4 Sale')
'Closer To The Heart'
'2112 Part I: Overture'
'2112 Part II: The Temples Of Syrinx'
'Far Cry'
Encore:
'La Villa Strangiato'
'Working Man'
Check out fan-filmed footage below: