SACRIFICE To Release 198666 Demo Anthology Double LP; New Material Sounding "Very RUSH Influenced"
August 26, 2011, 7 years ago
Canadian thrash pioneers SACRIFICE will soon be releasing a vinyl-only demo anthology, titled 198666, through Canadian label War On Music Records.
The limited double vinyl release will include the legendary Exorcism demo tape (featuring tracks which would later be included on Torment In Fire), the 1986 Forward To Termination demo sessions including a rare cover of DISCHARGE's 'The Possibility Of Life's Destruction', and the full 1989 Soldiers Of Misfortune demo sessions. This is some of the best early recordings of any classic thrash act - the tapes sum up the raw power that was early Sacrifice, and showcase the bands evolution from album to album through the 80s.
The double LP release will be strictly limited to 666 hand numbered copies on blood-red vinyl in a gatefold jacket featuring the stunning artwork of Hans Memling. The 198666 2LP will hit the streets October 28th, pre-orders will be available here.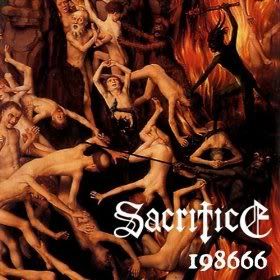 Tracklisting:
The Exorcism - Torment In Fire Demos 1985
'The Shining'
'Sacrifice'
'Turn In Your Grave'
'Burned At The Stake'
'The Exorcism'
'Decapitation'
'Warrior Of Death'
'Beyond Death'
Forward To Termination Demos 1986
'Forward To Termination'
'Pyrokinesis'
'Cyanide'
'Forever Enslaved'
'Afterlife'
'Possession'
'The Possibility Of Life's Destruction' (Discharge)
'Re-Animation' (1992 Outtake)
Soldiers Of Misfortune Demos 1989
'As The World Burns'
'Existence Within Eternity'
'Pawn Of Prophercy'
'Lost Through Time'
'Storm In The Silence'
Sacrifice are currently working on new material, drummer Gus Pynn is quoted: "The new Sac is very RUSH influenced, not surprising really."
No new release plans have currently been announced, watch for details.