SEBASTIAN BACH Working With Guitarist STEVE STEVENS For New Studio Album - "He Has Always Been One Of My Favorite Guitar Players"
January 27, 2013, 4 years ago
Vocalist SEBASTIAN BACH has checked in with the following update: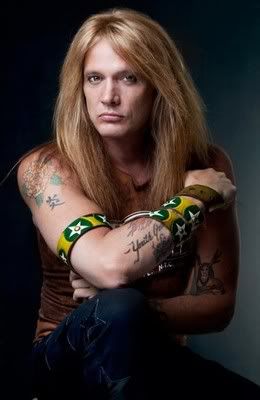 "Ideas are just starting to take shape for the next studio record. The legendary guitarist and great friend STEVE STEVENS (BILLY IDOL) has come up with one track so far that will definitely be on my next record. It is a kick-ass cool rock 'n' roll song that I guarantee will make the hair stand up on the back of your neck. Just how I like it. We are going to work on more songs together too. Also my guitar player, Jeff George, has come up with a couple of great ideas that we will also be demoing very soon.
We are really going to get cracking on the new material right away and have a new studio album out sooner than you think!
I am so happy to collaborate with Steve; he has always been one of my favorite guitar players! We are going out rock this bitch down to the ground in 2013, mother truckers!"

Check out live footage of Bach jamming with Stevens in January 2012 below:
Bach's new CD/DVD package, ABachalypse Now, has now been set for release on March 22nd in Europe and March 26th in North America via Frontiers Records.
The ABachalypse Now Ultimate CD/DVD Edition includes never-before-seen footage from this year's Graspop Festival in Belgium, the full never-before-seen Hellfest set from France and the fully-remixed and remastered Nokia show from Los Angeles (originally broadcast on AXS TV), as well as bonus music videos. The DVD contains a running time of nearly 160 minutes.
ABachalypse Now will be available in two configurations: the Ultimate CD/DVD Edition (2 CDs + DVD) and a standalone DVD.
Bach's latest album, Kicking & Screaming, was produced by Bob Marlette (BLACK SABBATH, ATREYU) and debuted in the Top 75 of the Billboard Top 200 Album chart and received rave reviews from critics and fans alike.
Sebastian Bach has sold in excess of 20 million records worldwide as lead singer with SKID ROW and as a solo artist. Far from just being a multi-platinum recording artist, the singer/songwriter/actor/entertainer has expanded his career over the past decade to include episodic television with a 5-season recurring role on the CW's hit series Gilmore Girls, starring roles on Broadway (Jekyll & Hyde, The Rocky Horror Picture Show) and national touring companies (Jesus Christ Superstar), and has appeared regularly on MTV and VH1.
ABachalypse Now tracklisting:
DVD:
- Live At Hellfest, France
- Live At Nokia, Los Angeles, CA
- Live At Graspop, Belgium
- Bonus Music Videos: 'Kicking & Screaming', 'TunnelVision', 'I'm Alive'
CD1:
- Live At Hellfest, France
CD2:
- Live at Nokia, Los Angeles, CA
Set lists:
Live At Hellfest, France - June 16th, 2012
'Slave To The Grind'
'Kicking & Screaming'
'Here I Am'
'Big Guns'
'Piece Of Me'
'18 & Life'
'American Metalhead'
'Monkey Business'
'I Remember You'
'Youth Gone Wild'
Live at Nokia, Los Angeles, CA - August 2nd, 2012
'Big Guns'
'(Love Is) A Bitchslap'
'Piece Of Me'
'18 & Life'
'American Metalhead'
'Monkey Business'
'I Remember You'
'TunnelVision'
'Youth Gone Wild'
Live At Graspop, Belgium - June 24th, 2012
'Kicking & Screaming'
'Dirty Power'
'Here I Am'
'Big Guns'
'18 & Life'
'American Metalhead'
'Monkey Business'
'I Remember You'
'TunnelVision'