SEPULTURA - North American Headlining Tour Announced
December 3, 2010, 9 years ago
Legendary Brazilian/American thrashers SEPULTURA, will return to North America for a massive headlining tour next April/May in support of their upcoming Nuclear Blast Records debut. Joining them will be a veritable united nations on metal in the form of Austria's BELPHEGOR, Norway's KEEP OF KALESSIN, Poland's HATE, Canada's NEURAXIS, and California-based thrashers BONDED BY BLOOD. Starting May 23rd, Seattle Washington's NEVERMORE will replace Belphegor to finish out the tour.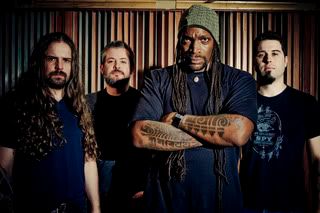 "We are very happy to play once again in the US, especially after a long time away from the American and Canadian stages," commented guitarist Andreas Kisser. "We're also excited to start working with our new label Nuclear Blast. They have a rich history in the heavy music business and we are honored to have such a partner. We are currently working on a new record, that will be released together with the American dates, so it will be our first tour for the new album. Hope to see you all at the shows! We will play the whole history of the group and we're going have a blast! See you on the Sepultour 2011!"
Confirmed North American shows for 2011 are as follows:
January (with Angra)
13 - House of Blues – Anaheim, CA
14 - House of Blues – Hollywood, CA
April (with Belphegor, Hate, Keep Of Kalessin, Neuraxis, Bonded By Blood)
18 - The Opera House – Toronto, ON
19 - Imperial de Quebec – Quebec City, QC
20 - Club Soda – Montreal, QC – CANADA
22 - The Palladium – Worcester, MA
23 - Starland Ballroom – Sayreville, NJ
24 - The Trocadero – Philadelphia, PA
25 - The Gramercy Theatre - New York, NY
26 - Tremont Music Hall – Charlotte, NC
27 - The Club at Firestone – Orlando, FL
28 - Culture Room – Ft. Lauderdale, FL
29 - The Masquerade – Atlanta, GA
May (with Belphegor, Hate, Keep Of Kalessin, Neuraxis, Bonded By Blood)
1 - Clicks – Tyler, TX
2 - Scout Bar – Houston, TX
3 - Trees – Dallas, TX
5 - Jake's – Lubbock, TX
6 - Sunshine Theater – Albuquerque, NM
7 - The Clubhouse – Tempe, AZ (+ D.R.I.)
8 - Club DV8 – Tucson, AZ (+ D.R.I.)
9 - House of Blues – San Diego, CA
10 - The Knitting Factory – Reno, NV
11 - The Grand Ballroom at Regency Center – San Francisco, CA
12 - Hawthorne Theater – Portland, OR
13 - El Corazon – Seattle, WA
14 - The Knitting Factory – Spokane, WA
16 - Gothic Theater – Englewood, CO
18 - Station 4 – St. Paul, MN
19 - Reggies Rock Club – Chicago, IL
20 - Blondie's – Detroit, MI
21 - Montage Music Hall – Rochester, NY
22 - Peabody's – Cleveland, OH
May (with Nevermore, Hate, Keep Of Kalessin, Neuraxis, Bonded By Blood)
23 - Expo Five – Louisville, KY
24 - The Rave – Milwaukee, WI
26 - The Zoo – Winnipeg, MB
27 - The Exchange – Regina, SK
28 - Dickens – Calgary, AB
29 - Starlite Room – Edmonton, AB
31 - Rickshaw Theater – Vancouver, BC
Sepultura have now added a special event VIP ticket for a pre-show meet-and-greet to take place one hour before doors. Each night, fans will get to meet and greet the band. VIP and reduced service charge tickets on sale now exclusively through Enterthevault.com until December 28th, at which time they go on sale through all other normal ticketing systems.
Sepultura will play their Arise album in its entirety at the 16th anniversary celebration for the Manifesto Bar in São Paulo, Brazil, on Saturday, December 11th. Further details here.
Sepultura recently confirmed that Roy Z. (JUDAS PRIEST, HALFORD, BRUCE DICKINSON) will produce the band's new album, due for release in early 2011 via Nuclear Blast Records.
In related news, the band have released two new studio update videos. Check out all three available clips below: