SHONEN KNIFE Perform Tribute Set To THE RAMONES In New York City With Bassist C.J. Ramone
November 20, 2011, 8 years ago
Piercingmetal.com has sent BW&BK; the following exclusive report from New York City:
"Japanese pop punk providers SHONEN KNIFE performed a rocking show at The Bell House in Brooklyn, NY last night (November 19th) in support of their Osaka Ramones: A Tribute To THE RAMONES CD. The set was loaded with numbers from their English and Japanese releases, and for the encore the girls returned sporting leather jackets which would lead to their homage to the legendary Queens band. From there we got seven song high- powered set of Ramones classics.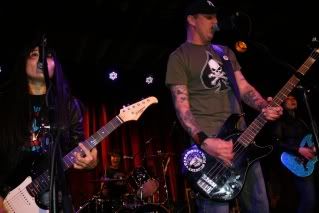 The tunes for this part of the night were 'Rock N' Roll High School', 'Beat On The Brat', 'I Wanna Be Sedated', 'The KKK Took My Baby Away', 'Scattergun', 'Blitzkreig Bop' and 'Pinhead'. Just before 'Scattergun' was delivered, the girls introduced their special guest C.J. Ramone, who joined them to sing the tune and remained with them for the final numbers. The openers for the gig were HEAVY CREAM (pop punk from Nashville) and THE HARD NIPS (post punk from Brooklyn)."
Watch for more at PiercingMetal.com.
(Photo by Ken Pierce)