SISTER SIN Singer To Undergo Surgery; Remaining 2012 Tour Dates Cancelled
November 14, 2012, 4 years ago
SISTER SIN check in with the following band news:
"We're coming to you with some bad news today.... (Frontwoman) Liv (Jagrell) has had issues with her voice starting way back in 2007-2008 and it turned out to be a node on her vocal chords. To avoid surgery she has been very strict with warmups, vocal exercises and whatnot, but never the less things have taken a turn for the worst lately.
After re-visiting her doctor last week it became apparent that surgery is now needed and unavoidable. So, it is with great regret we are forced to cancel the announced shows and planned dates for the rest of the year.
"This is very common amongst singers and expected recovery is only two months so we will be back stronger than ever in early 2013 and for the upcoming US tour in February.
Cant wait to see you all again on the road and thank you all for your understanding and support!"

Sister Sin recently released their official video for the Now And Forever album track, 'End Of The Line'. Check it out below:
Sister Sin released Now And Forever on October 23rd via Victory Records (October 19th in Europe).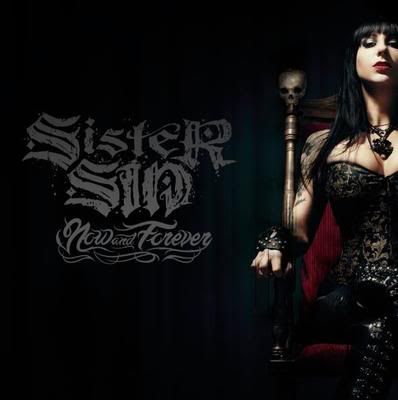 Now And Forever tracklisting:
'MMXII'
'End Of The Line'
'Fight Song'
'In It For Life'
'Hearts Of Cold'
'The Chosen Few'
'Hang 'Em High'
'I'm Not You'
'Running Low'
'Shades Of Black'
'Morning After'
A trailer for the album can be seen below:
The official lyric video for 'End Of The Line', the first single from Now And Forever, can be seen below:
Sister Sin will be making their way back to North America continuing their crusade for real heavy metal. The Swedish quartet will be direct support for DORO on her upcoming 19-city tour beginning February 2nd, 2013 in Tampa, Florida.
Sister Sin has toured with Doro throughout Europe and are now bringing their united metal mission to North America.
Liv Jagrell couldn't be happier and comments on the upcoming experience. "We've been waiting a long time to get back to the US and to tour with one of my all-time idols is just a dream come true. We are so happy to get on the road again and see all of our fans out there. We're ready to give them a good ol' time of rock 'n' roll! We will be promoting our new album Now and Forever that we are all extremely proud of."
Tour dates:
February
1 - Tampa, FL - Brass Mug
2 - Atlanta, GA - The Masquerade
3 - West Springfield, VA - Empire
4 - New York, NY - BB Kings
5 - Baltimore, MD - Soundstage
7 - Toronto, ON - Mod Club
8 - Rochester, NY - Montage Music Hall
9 - Columbus, OH - Al Rosa Villa
10- Cleveland, OH - Peabody's
12 - Detroit, MI - Blondie's
13 - Joliet, IL - Mojoes
14 - St. Paul, MN - Station 4
15 - Waterloo, IA - Spicoli's Grill and the Reverb
17 - Englewood, CO - Moe's
19 - Seattle, WA - El Corazon
20 - Portland, OR - Hawthorne Theatre
21 - San Francisco, CA - Thee Parkside
22 - West Hollywood, CA - House Of Blues
23 - Tempe, AZ - Rocky Point Cantina
Watch Sister Sin perform MOTÖRHEAD's 'Rock 'N' Roll' alongside Doro below. The video was produced last year - encapsulating the relationship between these two true metal torch bearers.