STEVE VAI On Performing Live On Stage - "I Don't Like To Take Myself Too Seriously, So There's Some Comic Relief Here And There"
November 18, 2012, 4 years ago
Anthony Morgan at Metal Forces recently caught up with guitar legend STEVE VAI to discuss his new album, The Story Of Light. An excerpt from the interview is available below.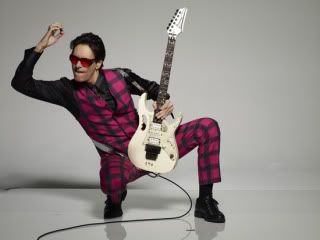 (Photo by Larry DiMarzio)
Live performances are scheduled in support of The Story Of Light, a United Kingdom trek beginning on December 1st at Portsmouth's Guildhall. A date at Manchester's Apollo on December 7th will conclude Steve's visit to British shores.
"It's got a different dynamic than my other tours," he reckons. "I always like to switch up the band a bit to give it a different feel. In my last band I had two violinists which works very well, and with this band I'm thinking of adding something different. I came across this electric harpist named Deborah Henson-Conant, and she plays this electric harp. It's quite a sight to see. We can process the sound, and do some very interesting things with it. In my mind I thought it would work, but I didn't think it was gonna work as good as it does (laughs). It's really beautiful."
"When I put a show together, I really see myself as trying to be the best entertainer I can be. People spend their money and time to come to see a show, and I want to give them something as fulfilling as I can muster. As a result, the show has a flow to it that I think has a lot of different dynamics. There are really intense, dense, complex pieces, and very simple, stripped down pieces. At times it's very heavy, and at times it's very, very intimate and delicate. We do an acoustic set that has a nice feel to it. I don't like to take myself too seriously, so there's some comic relief here and there. Ultimately though, I also want people to feel that they sense great musicianship, so everybody in the band is very competent. My goal is to put on the best show that I can so that when people leave, they feel really good."
Go to this location for the complete story.
Confirmed UK dates are as follows:
December
1 - Portsmouth, UK - Portsmouth Guildhall
2 - London, UK - Hammersmith Apollo
3 - Wolverhampton, UK - Wolverhampton Civic Hall
5 - Newcastle, UK - Newcastle City Hall
6 - Ipswich, UK - Ipswich Regent Theatre
7 - Manchester, UK - O2 Apollo
Vai released his new album, The Story Of Light, on August 14th via Favored Nations Entertainment. A full stream of the album is currently available at this location.
The Story Of Light tracklisting:
'The Story Of Light'
'Velorum'
'John The Revelator'
'Book Of The Seven Seals'
'Creamsicle Sunset'
'Gravity Storm'
'Mullach At Si'
'The Moon And I'
'Weeping China Doll'
'Racing The World'
'No More Amsterdam'
'Sunshine Electric Raindrops'