SYLENCER - Six Years In The Making
September 24, 2012, 5 years ago
By Kelley Simms
Chicago-based SYLENCER, led by self-taught session guitarist Markus Johansson, just released its debut full-length CD, A Lethal Dose Of Truth, which was six years in the making. A plethora of seasoned guest musicians are featured on the CD including Rob Caggiano (ANTHRAX), Steve DiGiorgio (SADUS, TESTAMENT, DEATH), Gene Hoglan (DETHKLOK, TESTAMENT, STRAPPING YOUNG LAD), Jordan Rudess (DREAM THEATER) and many more. It's a dose of retro thrash with great songwriting and top-notch musicanship. What makes the CD even more miraculous is that Johannson has accomplished it without a label and without financial backing. Speaking by phone from his south side Chicago residence, Johansson discussed what it took to make the CD, the many guests involved and if any live shows are in the cards.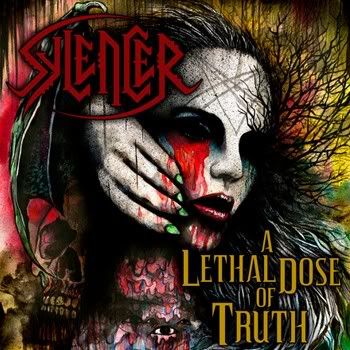 BraveWords.com: Sylencer's debut CD is pretty stellar, but why did it take six years to complete it?
Markus Johansson: It's been just over six years since day one of tracking started, but we haven't been actively in the studio with it every day since then. A bulk of it was done initially around May 2006. By October 2006, 12 songs were mostly put together. But then the economy, hard times, life started happening ... we were waiting to continually build on the record and finish it and then we were forced to postpone things at times. That's partly where all the guests started accumulating. In our downtime, we were trying to make the best of it.
BraveWords.com: For a virtually unknown band's debut album, how did you manage to get all of these great guest musicians to participate?
The first guest that we actually encountered was Gene Hoglan. We were able to meet in person and talk with him about wanting to work with him and throw the ideas back and forth. Gene said, "I don't do what I don't like." Basically, that is the stand alone quote that goes with every guest that we did reach out to. Most never heard the entire album. We would approach them in some manner, however we would get ahold of them, and then I would send them the track in question. Jordan Rudess was going to appear on a specific track, I would send him that track for his approval. Usually the guys weren't adamant about hearing the whole thing, just what song we wanted them on. And from there, they run their judgement on production, composition, song quality; however they run their job interview of what makes their time and attention worthy, and move on from there. Out of the 16 songs, a good portion of them all have a fairly unique lineup with different guests on different tracks.
BraveWords.com: Did you have a particular musician in mind while writing each song or was it an afterthought?
I would say they were all an afterthought. The material was already there, in a lot of cases. I joke with people about owning musical real estate, where if we were listening to a song I would hear a decent set of space there for somebody, I would try to incorporate the style of the player. I'm pretty familiar with all of the people who ended up guesting, I've been a fan of theirs for awhile and I had an idea of how each person plays. It wasn't something like being built for a specific person, it was already in place. In the last year or two when we were close to finishing up we added some extra songs and in that instance, the only time a song that was written for a guest was the track with Marco Minnemann on drums. It was pretty amazing that so many people could make it sound like one cohesive record and not really have a bunch of things that stand out like a clashing type of thing.
BraveWords.com: That's a good point, because there's just so much variety on the CD and every song is really strong. Not just because of the guest musicians, but you seem to be a good songwriter. What did you focus on while composing the songs?
Thank you for that. Because I think that is something that is a very hot issue, with the musicians involved. Where everyone might think that it was a collaborative effort, when in reality, it was a real quick thing with each person. I don't try to sound like a specific band or a specific genre, whatever happens, happens. I just try to formulate and get everything out the best I can through self expression. Whether it's trying to put music to specific lyrics I have or trying to do it the inverse way by adding a bunch of riffs and trying to capture it one way or another. I'm a self-taught musician, too, so if you start asking any theory questions, that might not go too smoothly! ha, ha, ha.
BraveWords.com: Are there any plans to tour with Sylencer?
Yes. Kevin Talley has taken up permanent residence as our drummer, so we're up to three people. We only need one more. The way the album worked, it's still easily divisible. All we do is just cut the lead guitar in half. The second guitar player would be playing Larry's (Tarnowski) second leads and trade-off things and divide up the guest work; like cutting some of those solos in half. Doing this all ourselves — we financed the whole record — so realistically to tour, we'd have to finance all of that ourselves as well. It's possible ... people are talking about it, and people are asking for it.
BraveWords.com: What's your next move? What do you hope to achieve with the CD?
After the amount of years that have past and it's now finished and now seeing the light of day, it gives me a warm, fuzzy feeling of accomplishment. But not for very long, probably for about a minute or two. We're immediately thinking of trying to do something else or trying to make something else bigger of it and just trying to get out there and promote it. It would be good to tour on it and try to get people to see it. People ask me if we're going to do a second album and if we would do the same thing. What the last six years have taught me is that planning ahead is pretty much pointless. Because you can say you're going to do something in a short matter of time, or it should work out this way, or you wouldn't think any thing could go wrong ... It took us six years to get it out and I hope it doesn't take six years for people to notice. It'd be good just to get this on the road and start playing these songs in front of people. To show people that it's not just a studio project, that's not ever really what it was intended to be, regardless of how the situation my appear that way.
Sylencer is:
Markus Johansson – Lead Vocals/Lead Guitar
Johnny Rox – Bass Guitar
Kevin Talley (Six Feet Under, Dååth, Chimaira) – Drums
Featuring:
Larry Tarnowski (Iced Earth) – Lead Guitar
Guest appearances:
Michael Angelo Batio (MAB, NITRO) - lead guitar
Rob Caggiano (ANTHRAX, THE DAMNED THINGS) – lead guitar
Metal Mike Chlasciak (ROB HALFORD, SEBASTIAN BACH) – lead guitar
Steve DiGiorgio (SADUS, DEATH, TESTAMENT, ICED EARTH) – bass guitar
Roland Grapow (HELLOWEEN, MASTERPLAN) – lead guitar
The Heathen (ZIMMERS HOLE) – vocals
Gene Hoglan (DETHKLOK, Testament, STRAPPING YOUNG LAD, DEATH) – drums
Andy LaRocque (KING DIAMOND, DEATH) – lead guitar
Christian Lasegue (JAG PANZER) – Lead Guitar
Marco Minnemann (NECROPHAGIST, PAUL GILBERT, KREATOR) – drums
Sean Reinert (CYNIC, Death) – drums
Jordan Rudess (DREAM THEATER, LIQUID TENSION EXPERIMENT) – keyboards
Brendon Small (Dethklok) – lead guitar
Steve Smyth (FORBIDDEN, Testament, NEVERMORE) – lead guitar
Emil Werstler (DAATH, CHIMAIRA, LEVI/WERSTLER) – lead guitar