TARJA TURUNEN Performs With SCORPIONS At Saimaa Open Air; Video Available
July 24, 2011, 9 years ago
On July 22nd, ex-NIGHTWISH vocalist TARJA TURUNEN performed the song 'The Good Die Young' with the SCORPIONS at the Saimaa Open Air in Lappeenranta, Finland. Scorpions frontman Klaus Meine dedicated the song to the victims of the bomb blast and massacre that took place in Oslo, Norway earlier that same day. Check out the footage below:
(Thanks: Metal From Finland)
As previously reported, Turunen performed in front of an audience of 242,000 on June 12th at the Rock On Volga festival in Samara, Russia. Footage from the performance can be seen below:
She issued the following statement:
"I had a true pleasure to perform in Samara, Russia a few days ago. I never thought the local people would welcome me so warmly there though. Most of the bands were Russians and I was a bit nervous how my music would fit in at this Rock on Volga festival. When it was time for us to start our show, people were shouting my name and my doubts were gone. Our show was great and the people in Russia were beautiful to us.
The organization of the festival confirmed that there were 242,000 people watching my show that night!!! That is more than 4 football stadiums all together! It was very difficult to see the people far back at the end. This was an overwhelming experience for all in the band and one of the nicest moments in my career. Something I will never forget.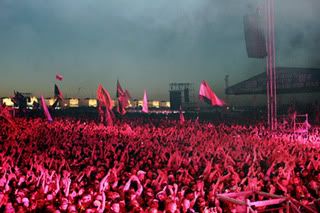 I got a chance to sing in Russian with KIPELOV and that just topped everything I had experienced so far. I had the lyrics in front of me, but not even once I needed to check them out! I was so proud of myself. Ha-Ha. Russian is definitely very difficult language, but I wanted to learn it well. Let me tell you, it was a hard work, but I am a hard worker!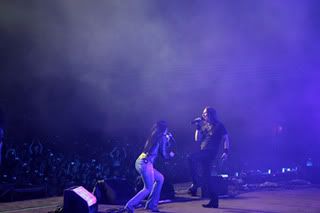 Today I woke up in the morning and found out that I am on a beautiful island where the sun is shining and the breeze of the sea is tender. It's really amazing to realize how happy one can be just when there is silence around. Well, now there is a little lizard keeping me a company and a bird came to say hello too.
Now I am writing songs again for the new rock album. I am sure the environment I am having around me at the moment helps me a lot with it. Oh, the nature is very inspiring here.
Next time you will see me in Serbia and I am truly excited to travel there again. It has been way too long since my last visit.
With love, Tarja."