THIN LIZZY To Record First Album Without PHIL LYNOTT; Kevin Shirley To Produce
September 17, 2012, 5 years ago
THIN LIZZY guitarist Scott Gorham has confirmed the band will work with lauded producer Kevin Shirley (LED ZEPPELIN, IRON MAIDEN, JOE BONAMASSA) on their forthcoming album. The long-player will be the band's first output in 29 years and the first without frontman Phil Lynott.
"I'll be going out to Los Angeles at the end of the month to work on some songs with Damon (Johnson) and then I think we will start recording in October in our producer Kevin Shirley's studio," he says.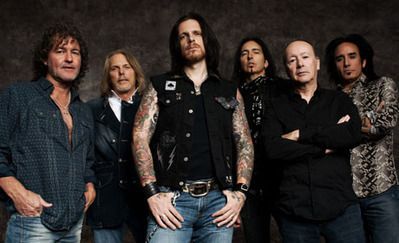 The current lineup which features Lizzy veterans Gorham, Brian Downey and Darren Wharton with Ricky Warwick on vocals, ex-WHITESNAKE man Marco Mendoza on bass and former ALICE COOPER guitarist Damon Johnson have been touring extensively to sold out venues over the past two years.
"We are all excited about the new record but especially Ricky and Damon, they just can't wait to start recording!" smiles Gorham. "You have got six guys there that are chomping at the bit that can't wait to get this thing going."

Read more at this location.