Update: RUSH - More Clockwork Angels Release Details Confirmed; 'Headlong Flight' To Hit Radio April 19th
April 11, 2012, 7 years ago
RUSH's anxiously-awaited new album, Clockwork Angels, will be released on June 12th via Anthem/Universal in Canada and their debut for Anthem/Roadrunner Records in the US.
This is the band's first new collection of original material in over five years. Marking their 20th studio album, Clockwork Angels lyrically chronicles a young man's quest across a lavish and colourful world of steampunk and alchemy as he attempts to follow his dreams. The story features lost cities, pirates, anarchists, an exotic carnival, and a rigid Watchmaker who imposes precision on every aspect of daily life.
The recording of Clockwork Angels began in April 2010 at Nashville's Blackbird studios with Grammy Award winning producer Nick Raskulinecz (FOO FIGHTERS, DEFTONES) – who also collaborated with the band on their last studio album, 2007's Snakes & Arrows. Rush co-produced both records.
The songs 'Caravan' and 'BU2B' were completed during that first session and performed nightly during Rush's wildly successful Time Machine Tour, which ran from June 2010 to June 2011. Work on Clockwork Angels resumed in the fall of 2011 at Revolution Recording in Toronto after the tour's finale, with additional strings (arranged by David Campbell) recorded at Hollywood's Ocean Way Studios earlier this year.
Rush will herald the release of Clockwork Angels with a new single, 'Headlong Flight' landing at radio on April 19th. Details of a full-scale North American tour to support the new album will be announced shortly.
Check out the artwork below: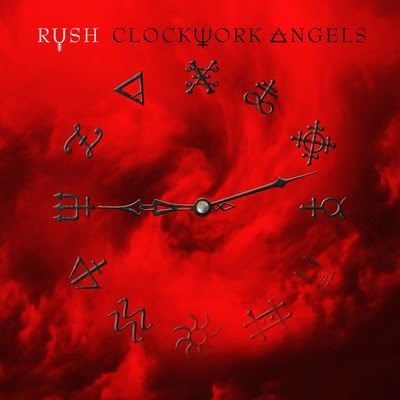 Clockwork Angels tracklisting is as follows:
'Caravan'
'BU2B'
'Clockwork Angels'
'The Anarchist'
'Carnies'
'Halo Effect'
'Seven Cities Of Gold'
'The Wreckers'
'Headlong Flight'
'BU2B2'
'Wish Them Well'
'The Garden'
Check out a 30-second trailer below:
Colorado-based sci-fi author Kevin J. Anderson is writing a novelization Clockwork Angels. ECW Press has announced a September 1st street date for the novel which is 264 pages in length, with author credits going to Kevin J. Anderson and Rush drummer Neil Peart.