Vocalist TONY MARTIN Talks BLACK SABBATH And Bill Ward - "I Don't Understand Why They Didn't Give Him Time To Get His Thing Together"; New Audio Interview Online
July 3, 2012, 7 years ago
The second most long standing vocalist of heavy metal creators BLACK SABBATH, Tony Martin was recently interviewed by Metal Shock Finland's Ali Blackdiamond ahead of his upcoming one-off show with his band HEADLESS CROSS at The Asylum in Birmingham on July 27th.
Tony had the following to say when asked about Bill Ward exiting Black Sabbath: "My years with Black Sabbath span 10 years and I've heard all the stories, not once did they say a bad word about Bill. They've always rated him, they love him. He's had his little moments like we all have, them included, but I didn't understand why they didn't give him time to get his thing together, why not set up rehearsals to help him out? It seems a bit like a publicity stunt in that they're saying, 'we can't be bothered to do rehearsals to get him to learn all the stuff again, so we'll save it for another time and another reunion.' I really don't know, but just don't get it. Bill's a lovely guy by the way, really cool."
The full transcription of the interview can be found here.
Listen to the interview below:
As mentioned, the worldwide live premiere of Tony Martin's Headless Cross will occur at The Asylum in Birmingham, UK on Friday, July 27th. Tickets are £10 gbp in advance and £12 gbp on the door.
The band line-up is as follows:
Tony Martin (vocals - ex-BLACK SABBATH)
Danny Needham (drums - VENOM)
Geoff Nicholls (keyboards - ex-Black Sabbath)
Dario Mollo (guitar - VOODOO HILL, THE CAGE)
Magnus Rosén (bass - ex-HAMMERFALL)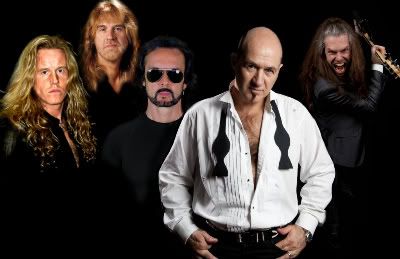 Headless Cross was Tony Martin's second album with Black Sabbath, released in April 1989. The album signalled another resurgence for the godfathers of heavy metal with such tracks as 'Headless Cross', 'Devil & Daughter' and the epic 'When Death Calls'.