VOODOO CIRCLE - More Than One Way Home Album Artwork Revealed
January 7, 2013, 4 years ago
German/British metal act VOODOO CIRCLE - founded by SILENT FORCE mastermind Alex Beyrodt - have revealed the artwork for their new album, More Than One Way Home, due for release via AFM Records on February 22nd. Check it out below:
Listen to a sample of the album track, 'Graveyard City', below:
The first single/video from the new album, for the track 'Cry For Love', will be released soon. A photo from the video set can be seen below:
Voodoo Circle lineup:
Alex Beyrodt (PRIMAL FEAR, Silent Force, SINNER) - guitar
David Readman (PINK CREAM 69) - vocals
Mat Sinner (Sinner, Primal Fear) - bass
Markus Kullmann (DEZPERADOZ) - drums
Zlatko "Jimmy" Kresic (LIQUID HOME) - deyboards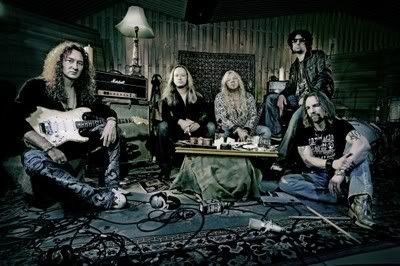 Updates are forthcoming. More on Voodoo Circle at this location.