West Coast Seattle Boy: The JIMI HENDRIX Anthology Due In November; Details Available
September 13, 2010, 9 years ago
On November 2nd in the US/16th in Canada, Experience Hendrix/Sony Legacy is releasing West Coast Seattle Boy: The JIMI HENDRIX Anthology as a single-CD, four-CD/one DVD Collectors Box and limited edition eight-LP box set.
According to a press release, the collection tracks Jimi's incredible journey from R&B; sideman to international acclaim.
This collection presents for the first time the most sought after of Jimi's pre-Experience recordings as a sideman for such Rhythm & Blues stars as THE ISLEY BROTHERS, DON COVAY, LITTLE RICHARD and others. All of the misinformation and fake purported to feature Hendrix are swept aside for fans.
The remaining three discs feature previously unreleased and commercially unavailable studio recordings from every chapter of his career, live recordings with the EXPERIENCE and BAND OF GYPSYS spanning 1967 through 1970.
The studio recordings include never before released [or even bootlegged!] alternate versions of such classic fare as 'Are You Experienced?', 'Fire', 'May This Be Love', 'Love Or Confusion' and many more. In addition, new songs such as 'Hear My Freedom', 'Hound Dog Blues' and 'Lonely Avenue' make their debut as part of this special collection.
To provide further insight and understanding into Hendrix s creative development, WCSB presents acoustic and electric home recordings of Electric Ladyland signature songs such as 'Long Hot Summer Night', '1983 (A Merman I Shall Turn To Be)', as well as 'My Friend And Angel' later featured as part of First Rays Of The New Rising Sun. WCSB also features another major revelation an electric demo version of BOB DYLAN's 'Tears Of Rage'.
WCSB also features a previously unreleased version of Everlasting First, Jimi's 1970 celebrated collaboration with ARTHUR LEE & LOVE, an unheard 1967 studio session with Traffic s Dave Mason as well as an expanded presentation of Jimi's legendary session with jazz organist Larry Young.
Four hours of rare and previously unreleased Jimi Hendrix.
The acclaimed documentary, Jimi Hendrix: Voodoo Child, tells Jimi's incredible story in his own words. Jimi's interviews and private writings offer new insights into the extraordinary life and career of the greatest guitarist of all time. The special 90 minute documentary features some of Jimi's greatest performances as well as rare and never before seen footage and photos. Jimi Hendrix: Voodoo Child also includes--for the first time ever examples from the Hendrix family archive of the late guitarist s personal drawings, postcards home to his father, song drafts, sketches, and lyrics.
"Who better to tell the incredible story of a man's life than the man himself? Jimi was amazing and only his music, with tones and textures that he conjured, can capture the colorful and expansive essence of his time here on earth. I am enthralled with this all-encompassing new anthology which not only illuminates his years on both sides of the Atlantic and beautifully reveals his versatility as a performer, from his R&B; origins to his explosion on the pop culture scene, but highlights who he was for those who knew and loved him," said Janie Hendrix, President and CEO of Experience Hendrix and co-producer of West Coast Seattle Boy - The Jimi Hendrix Anthology. "This vast exploration of my brother's musical and life experiences leaves no stone unturned and is sure to broaden our understanding of who Jimi really was, not only as a legendary musician, but also as a timeless messenger of love."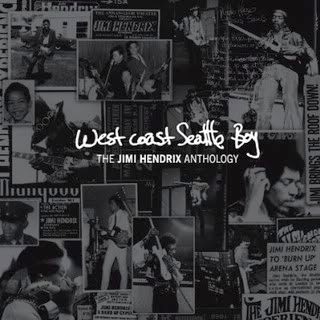 West Coast Seattle Boy: The Jimi Hendrix Anthology tracklisting:
'Fire'
'Love Or Confusion'
'Room Full Of Mirrors'
'Shame, Shame, Shame'
'Mr. Bad Luck'
'May This Be Love'
'Are You Experienced?'
'Tears Of Rage'
'Hear My Freedom'
'Hound Dog Blues'
'Lonely Avenue'
'Burning Desire'
'In From The Storm'
'Bolero'
'Hey Baby'
West Coast Seattle Boy: The Jimi Hendrix Anthology Collectors Box tracklisting:
Disc: 1
THE ISLEY BROTHERS - 'Testify'
DON COVAY - 'Mercy, Mercy'
Don Covay - 'Can't Stay Away'
ROSA LEE BROOKS - 'My Diary'
Rosa Lee Brooks - 'Utee'
LITTLE RICHARD - 'I Don t Know What You Got But It's Got Me'
Little Richard - ';Dancing All Around The World'
FRANK HOWARD & THE COMMANDERS - 'I'm So Glad'
The Isley Brothers - 'Move Over And Let Me Dance'
The Isley Brothers - 'Have You Ever Been Disappointed'
RAY SHARPE - 'Help Me (Get The Feeling) Part One'
THE ICEMEN - '(My Girl) She's A Fox'
JIMMY NORMAN - 'That Little Old Groove Maker'
BILLY LAMONT - 'Sweet Thang'
KING CURTIS - 'Instant Groove'
Disc: 2
'Fire' (previously unreleased alternate recording)
'Are You Experienced?' (previously unreleased recording)
'May This Be Love' (previously unreleased alternate recording)
'Can You See Me' (previously unreleased alternate recording)
'The Wind Cries Mary'
'Love Or Confusion' (previously unreleased alternate recording)
'Little One' (previously unreleased recording)
'Mr. Bad Luck' (previously unreleased alternate recording)
'Cat Talking To Me' (previously unreleased alternate recording)
'Castles Made Of Sand' (previously unreleased recording)
'Tears Of Rage' (previously unreleased recording)
'Hear My Train A Comin'' (previously unreleased recording)
'1983 (A Merman I Shall Turn To Be)' (previously unreleased recording)
'Long Hot Summer Night' (previously unreleased recording)
'My Friend' (previously unreleased recording)
'Angel' (previously unreleased recording)
'Calling All The Devil's Children' (previously unreleased alternate recording)
'New Rising Sun' ( previously unreleased alternate recording)
Disc: 3
'Hear My Freedom' (previously unreleased recording)
'Room Full Of Mirrors' (previously unreleased recording)
'Shame, Shame, Shame' (previously unreleased recording)
'Messenger' (previously unreleased recording)
'Hound Dog Blues' (previously unreleased recording)
'Untitled Basic Track' (previously unreleased recording)
'Star Spangled Banner' (live) (previously unreleased original mix)
'Purple Haze' (live) (previously unreleased original mix)
'Young/Hendrix' (previously unreleased alternate recording)
'Mastermind (previously unreleased recording)
'Message To Love' (previously unreleased alternate recording)
'Fire' (live) (previously unreleased recording)
'Foxey Lady' (live) (previously unreleased recording)
Disc: 4
'Stone Free' (live) (previously unreleased recording)
'Burning Desire' (previously unreleased recording)
'Lonely Avenue' (previously unreleased recording)
'Everlasting First' (previously unreleased alternate recording)
'Freedom' (previously unreleased recording)
'Peter Gunn/Catastrophe' (previously unreleased alternate recording)
'In From The Storm' (previously unreleased alternate recording)
'All God's Children' (previously unreleased recording)
'Red House' (live) (previously unreleased recording)
'Play That Riff' (previously unreleased recording)
'Bolero' (previously unreleased recording)
'Hey Baby (New Rising Sun)' (previously unreleased alternate recording)
'Suddenly November Morning' (previously unreleased recording)