WOODS OF YPRES - Final Heart Of Gold Tribute Album Details Revealed; Now Available For Pre-Order
January 26, 2013, 6 years ago
Paul Kuhr of NOVEMBERS DOOM, one of the organizers of the forthcoming tribute album dedicated to WOODS OF YPRES frontman David Gold, entitled A Heart Of Gold: Tribute To Woods Of Ypres, has checked in with the following update: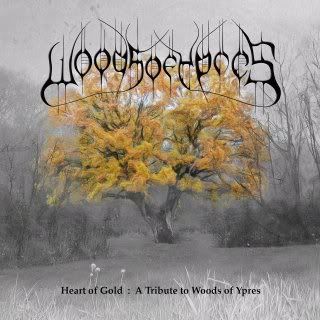 "After speaking with Steph (Ledrew), and going over options at great length, we need to raise the money for the manufacturing of the CDs. To do this, we are going to ask for people to pre-oder by using PayPal. There are two options for you. A donation of $10 will get you a download link in the near future, and for $20 you will get a download link as well as the physical double CD when available. We need to raise $3000 dollars total, and we want to see how quickly it looks like we will reach this goal before releasing the download link."
"This is going to take a bit of faith, that you won't get ripped off, but I assure you, this is going to happen. Stephanie and I are hard at work to make sure. I will keep everyone updated here as to how close we are to reaching that goal. The prices are $10 and $20, but if you want to see this happen faster, by all means, donate more, what ever you can. Every dollar will get this done faster.
Pre-Order Donations - PayPal
$10 - download only
$20 - download and physical double CD
Send donations as a PayPal Gift to DavidGoldTribute@gmail.com. In the note section, include your email address for the download link and your physical address for the CD to be mailed. This is important, as the "gift" feature doesn't send that information."

The confirmed tracklist is as follows:
Disc 1
'Thrill Of The Struggle' - CATUVOLCUS
'Adora Vivos' - Raphael from MUSK OX
'Lightning And Snow' - EARTHEN
'Falling Apart' - CANOPY
'A Meeting Place And Time' - PANZERFAUST
'Finality' - KUHRZARTH
'The Sun Was In My Eyes' - ANEMIC
'Retrosleep In The Morning Calm' - ALBIREON
'Suicide Cargoload' (live) - GYPSY CHIEF GOLIATH
'Career Suicide' - RELIQUIS
Disc 2
'Wet Leather' - NOVEMBERS DOOM
'Crossing The 45th Parallel' - ECLIPSE ETERNAL
'Allure Of The Earth' - AMARANTH
'The Shams Of Optimisim' - PAGAN RITUAL
'Silver' - Joel Violette and Rae Amitay of WOODS OF YPRES / THRAWSUNBLAT
'The Sea Of Immeasureable Loss' - BEGOTTEN
'Shedding The Deadwood' - EMPYREAN PLAGUE
'Trillium: The 3rd Of Three Winters' - Justin Bender of INTO ETERNITY
'The Looming Of Dust In The Dark' - THE GOV AND CARVER
Go to the tribute album's official Facebook page here for updates.
Three tracks from the album have been posted: 'The Sun Was In My Eyes by Anemic, 'Lightning And Snow' by Earthen, and 'Finality' by Novembers Doom's Paul Kuhr (with his daughter) and GODDAMN ZOMBIES' Will Bozarth. Check them out below: