NIGHTWISH - A Scaretale For Storytime: "Just Release The Bitch Inside"
June 7, 2012, 10 years ago
By Carl Begai
Finnish bashers NIGHTWISH recently wrapped up the European leg of their ongoing Imaginaerum tour, which will continue for the forseeable future given the impact of the band's latest album and the forthcoming Imaginaerum-based movie. Prior to one of the final gigs of the European jaunt, keyboardist/found Tuomas Holopainen sat down to discuss the success of the new record and the state of the band.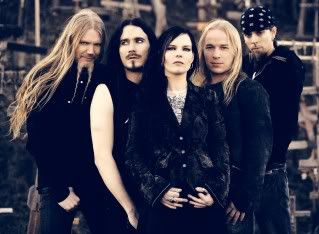 Last time out Nightwish had unenviable task of promoting their Dark Passion Play album while continuing to defend their decision to bring vocalist Anette Olzon into the fold in 2007 as a replacement for Tarja Turunen. The band had been expecting the inevitable shitstorm long before they hit the road for the album – fan opinion regarding Olzon was widely divided upon Dark Passion Play's release – but the negativity and tension endured over two years took its toll. Upon meeting Holopainen for this chat it's immediately clear the strife from the previous tour is a thing of the past. Perhaps the only thing plaguing Nightwish at this point is a collective lack of sleep.
"It's so much more relaxed, we're so much more confident because we know that the people know what to expect," says Holopainen. "They're coming to see a show, not to judge the 'new' vocalist. It's been so much more relaxed, easygoing and fun."
YouTube is one public forum offering a resounding show of support for Olzon, who has definitely improved in her role as the band's voice. Sure, there are the expected debates of whether or not she holds a candle to Turunen, but the fans that stuck around after Dark Passion Play are quick to defend Olzon nowadays and quite vocal about her having cemented a place in Nightwish.
"It's very nice for her," Holopainen agrees, well aware of what is and isn't being said about Olzon. "We'll never get rid of that debate and we can live with that, but it has definitely calmed down and turned around. And all those really mean comments you find online, they're written by miserable twats in their underwear trying to have an opinion. It's really nothing to get wound up about."
Imaginaerum in album form is old news, having been released in November 2011, but Holopainen still marvels at its success. He's not alone. It's a production of epic proportions that makes the task of sitting through the whole album in a single listen a daunting one. And yet it continues to resonate with the older fans while bringing in a new legion of followers that, ironically, have no use for the band's operatic Tarja Turunen era.
"Personally, I think this is the most theatrical, diverse, and maybe even difficult album that we've made. I find it overwhelming that people have taken it so well, even on a commercial level. Things are really going well. I thought this album would be on the difficult side to get into, but I guess it takes a few listens to get into it, and after you do that you can find the magic of it."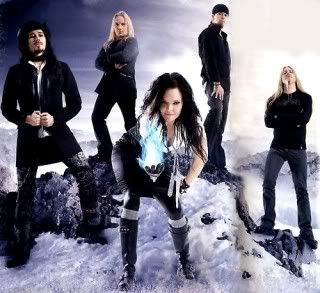 Personally, that magic was unleashed upon hearing Olzon rage her way through 'Scaretale'. There's no question that she shines on Imaginaerum as a whole, but this one track in particular (with 'Slow Love Slow' as an honourable mention) showcases her diversity and strength as a singer.
"That's a fine example," says Holopainen. "I just gave her the vocal melody and the lyrics, and I told her to imagine being in a nightmare and being the evil witch in the story Hansel & Gretel. Just release the bitch inside (laughs)."
The fact that 'Storytime' was released as the first single off Imaginaerum adds to the album's appeal. Record label Nuclear Blast's decision to release the Disney-esque ballad 'Eva' as the lead track from Dark Passion Play was perplexing and more than a little irritating considering Nightwish is supposed to be a metal band. The song and misplaced hype around it at the time only served to water down the album.
"I'm with you on that," Holpainen nods. "I think 'Eva' was a good song to introduce the new vocalist and show people what Anette sounded like. That was the idea but it wasn't the best possible opening, that's for sure. 'Storytime' really represents the whole album."
As for the Imaginaerum show, it's a crying shame that some (most) venues in North America won't get the full European spectacle when Nightwish comes through this fall. With a massive stage set that includes digital screens, props, and more pyro than your average KISS show, it's one of those concerts that leaves you physically drained by the time the band has taken a final bow of the night.
"The way we've built the show, it's quite different from your normal heavy metal concert," explains Holopainen. "It's more of a Cirque du Soleil kind of drama with the screens and the pyro, and everything is thought over to the last subtlety. It's like one big theater play that we're doing. There's not much talking between songs, we always have the same setlist, and everything is synchronised."
Unlike a lot of veteran bands flogging a new record that go out and only play a couple of new tracks scattered amongst the crowd-pleasers in their catalogue, Nightwish pull out numerous songs from Imaginaerum and Dark Passion Play. Only a few of the older older songs originally done by Turunen pepper the set, but the band hasn't been catching the flak they'd expected for designing things this way.
"It's not like that, actually, which was kind of a surprise," Holopainen admits. "For example, we've been playing 'Come Cover Me' from Wishmaster and that gets the least response… so we're not playing it anymore (laughs). 'Scaretale' is a really good one, and 'I Want My Tears Back' is our biggest live hit off the new album. Altogether the response of the audience on this tour is not the kind of rapture we used to have years ago because what's happening on stage is so multi-dimensional and theatrical that people are saying 'What the fuck is this?' It's not the sweaty and slimy rock and roll show anymore; it's more like being at the theater. We can sense that from the audience, which is what we went after."
Click here for more.