FREDDIE MERCURY - The Great Pretender: A Life In Pictures Available For Pre-Order
July 23, 2012, 9 years ago
FREDDIE MERCURY The Great Pretender: A Life In Pictures will be released on hardcover via Goodman Books on September 13th. The book gives fans unprecedented access to all areas of one of the world's greatest artists and showmen.
An illustrated portrait of the legendary showman's life, published to coincide with Freddie For A Day, the annual awareness and fundraising event in aid of the Mercury Phoenix Trust.
Freddie Mercury is a man who has left such a fantastic legacy of iconic songs and sublime performances that he will live forever. This official book celebrates the colourful life of the legendary showman: as a child growing up in Zanzibar; as a singer in the legendary rock band Queen; as a solo artist; and above all captures him as one of the 20th century's foremost popular, cultural icons.
Freddie's life is recounted in insightful text and captivating photographs, from the most recognised to the very rare.
Fans are given unprecedented access to all areas of The Great Pretender's world.
Also included is an hour-long CD that contains a rare, revealing interview with Westwood One "Off The Record" radio host Mary Turner recorded in the 1980s, in which he candidly discusses all aspects of his life and stardom.
For more details and pre-order information head to this location.
Eagle Rock Entertainment recently announced the September 25th release of the Freddie Mercury DVD and Blu-ray, The Great Pretender.
Created by the same team behind the widely acclaimed QUEEN: Days of Our Lives BBC documentary, The Great Pretender, in similar vein, presents a compelling insight into its subject matter, unearthing previously undiscovered or rarely seen footage and presented for the first time in High Definition.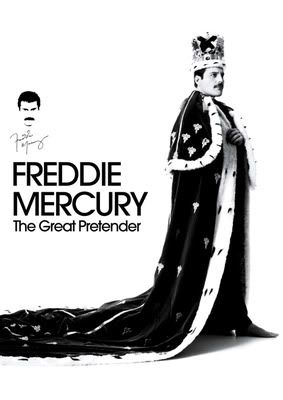 Produced and directed by Rhys Thomas, life-long Queen fan and expert (to the extent that Rhys famously broke the Mastermind all time record points score with a specialist subject of Queen), Rhys has this time turned his attention to the Freddie archive, going back as early as 1976 in search of vintage gems which reveal more than ever before the inside story of Freddie's life and career and the solo projects he worked on outside of Queen.
The extensive archive footage is drawn from rare interviews with Freddie, concerts, video shoots and personal material, much of it being seen for the first time, along with newly filmed contributions from fellow Queen members Brian May and Roger Taylor, Queen manager Jim Beach, soprano Montserrat Caballé, composers David Arnold and Mike Moran, lyricist Tim Rice, comedian and lifelong fan Matt Lucas and many more.
From it emerges a portrait of a man who was very different to his flamboyant onstage public persona.
Among the treasures to be anticipated, The Great Pretender includes for the first time ever Freddie and ROD STEWART singing their demo for 'Take Another Piece of My Heart', an unreleased song from 1984, a snippet of the unreleased MICHAEL JACKSON / Freddie Mercury collaboration 'There Must Be More To Life Than This', and Freddie with the Royal Ballet 1979 – never seen in full before.
Rhys, whose extensive scouting for lost material turned up a copy of the band's first TV appearance among the belongings of late comedian Dick Emery, brings to the light Freddie's earliest filmed interview from 1976 unearthed in Australia and another unseen interview from 1976 filmed by NBC in the USA.
Rhys also found 10 cans of Freddie's 39th Black and White birthday party in Mrs. Henderson's nightclub in Munich in 1985. Originally filmed for the video for 'Living On My Own', and promptly banned by Freddie's record company because of its cross-dressing theme, there's much to be enjoyed in watching Freddie and his friends go full out in their efforts to help Freddie celebrate his last birthday before turning 40.
On top of this, The Great Pretender has a feast of outtakes from the video shoots for 'I Want To Break Free', 'One Vision', 'Days of Our Lives', 'I Want It All', 'A Kind Of Magic', 'Princes of the Universe', 'Living on My Own', 'Born To Love You', 'Great Pretender', 'Made In Heaven' and 'Who Wants to Live Forever'.
As bonus features (that will not make up part of the version to be broadcast by the BBC) the program includes Freddie Mercury Goes Solo and an extended interview with MONTSERRAT CABALLE.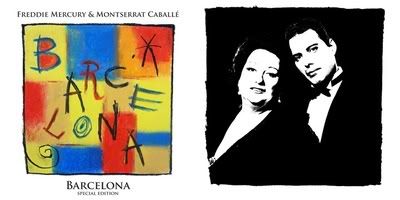 Coinciding with the release of The Great Pretender DVD will come the release of the new Barcelona: Special Edition album with Freddie and Montserrat's original album re-recorded with full 80 piece orchestra [a feature on the making of this album is included on both formats] and a new book, also entitled The Great Pretender with matching artwork, in September.
Complete details can be found at this location. Watch the making of the album clip below:
Now into its third year, Freddie For A Day, the worldwide marker of the life and legend of the late, great Freddie Mercury timed around his birth date, is gearing up to once again turn us into a nation of moustaches for a day while raising funds to combat AIDS which claimed Freddie in 1991.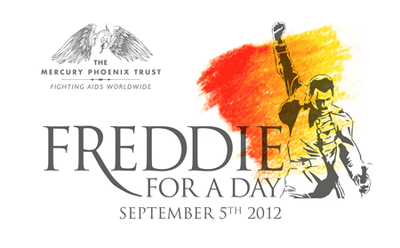 Last year's FFAD which was highlighted in London with a wall to wall celebrity evening at The Savoy Hotel, saw more than a quarter of a million pounds raised through celebrity and fan based events and contributions, all of which was channeled through the Mercury Phoenix Trust, the HIV AIDS organization set up in Freddie's memory to continue the fight against ignorance and infection worldwide.
Among the lasting impressions from FFAD 2011 remain those of KATY PERRY donning the complete Freddie costume from his final Wembley concert, moustaches glued to the upper lips of such diverse public faces as Stephen Fry, JEFF BECK, Princesses Beatrice and Eugenie, Russell Brand, Ben Elton, and Chris Evans, as well as the entire Red Bull Formula 1 crew during a pit shift.
Expect more such vivid images when FFAD takes hold again this September, returning for it's now annual fundraising event at the London Savoy on September 3rd when the famous will be treated to another evening of Comedy and Rock'n'Roll. The nation gets to have their fun with it and make their own personal contribution on Freddie's actual birthday on September 5th.
For the arrival in our calendars of a day when across the world moustaches are glued on and some of Freddie's famous costumes randomly reappear in public places, we have to acknowledge the handful of dedicated fans who in 2010 decided we should not forget how Freddie was lost and that we should continue to be alert and responsive to the cause.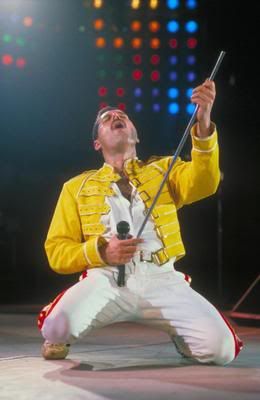 Taking train rides as Harlequin Freddie, visiting a zoo as Penguin Freddie, waiting table as Wembley Freddie, the fan network somehow connected to ignite the idea worldwide. Fans from no less than 24 countries around the world - from Argentina to Ukraine - joined in to become their own Freddie For A Day and purposefully raise whatever sponsorship funding they could to give something to the work of the Mercury Phoenix Trust.
The Mercury Phoenix Trust was founded in 1992 by QUEEN members Brian May and Roger Taylor and Queen manager Jim Beach to help distribute money raised from the 1992 Freddie Mercury Tribute Concert for AIDS awareness. Since then, the Trust has raised over $15 million to help in the fight against AIDS worldwide.
It doesn't take being famous to be a part in Freddie For A Day. All you need to decide is whether you are bold enough to go for a full sparkly body leotard, head-to-toe PVC biker leathers, or simply to stick with aviator sunglasses and of course.... that tache! Comic Relief has the red nose, Freddie For A Day has the famous bristles.
For more information head to this location.