NIGHTMARE Upload New Live Footage
May 13, 2011, 9 years ago
French power metalers NIGHTMARE have uploaded fan-filmed footage of the band performing 'Legions Of The Rising Sun' at Power Prog & Metal Festival, on April 30th in Mons. Belgium. Check out the footage below:
Nightmare released their second live document, the live DVD+CD double set One Night Of Insurrection, on February 25th via AFM Recods.
One Night Of Insurrection was shot on October 30th, 2009, as the band celebrated its 30th anniversary with a special show in their hometown of Grenoble (France) in the Salle Edmond Vigne.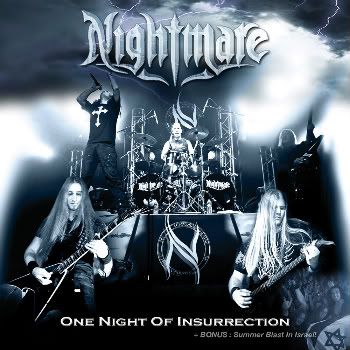 DVD tracklisting:
'Intro'
'Eternal Winter'
'White Wicked Demon'
'Heretic'
'Legions Of The Rising Sun'
'Secret Rules'
'Queen Of Love And Pain'
'Three Miles Island'
'Hallucinations'
'The Wind Of Sin'
'Target For Revenge'
'The Gospel Of Judas'
'Mind Matrix Schizophrenia'
'The Watchtower'
'Power Of The Universe'
'Lord Of The Sky'
'Trust A Crowd'
Bonus:
Summer Blast in Tel-Aviv, Israel
CD tracklisting:
'Intro'
'Eternal Winter'
'White Wicked Demon'
'Heretic'
'Legions Of The Rising Sun'
'Secret Rules'
'Queen Of Love And Pain'
'Three Miles Island'
'Cosmovision'
'The Wind Of Sin'
'Target For Revenge'
'The Gospel Of Judas'
'The Watchtower'
The opener, 'Eternal Winter', has been released as a YouTube clip. Check it out below: