RUSH Guitarist Alex Lifeson Guests On Humble And Fred Radio Show
July 11, 2012, 9 years ago
RUSH guitarist Alex Lifeson was the featured guest on the Humble And Fred radio show on July 11th. In the interview Lifeson talks about the band's new album Clockwork Angels and the upcoming tour. He also talks about how the band is currently in pre-rehearsal mode and will head into full band rehearsals on July 23rd.
The interview can be heard below. Lifeson's interview comes in about two-thirds of the way into the program at about the 64-minute mark:
As previously reported, Alfred Music Publishing has released an authentic guitar tablature book for Rush's Clockwork Angels album. A product description follows:
Rush's 20th studio album features all the classic elements that have endeared the band to several generations of fans and made them the most successful progressive rock group of all time. The book contains all the songs faithfully transcribed in authentic guitar TAB, beautiful full-color artwork, and a complete lyrics section.
Tracks:
'Caravan'
'BU2B'
'Clockwork Angels'
'The Anarchist'
'Carnies'
'Halo Effect'
'Seven Cities Of Gold'
'The Wreckers'
'Headlong Flight'
'BU2B2'
'Wish Them Well'
'The Garden
In the video footage below, while talking about the band's first studio album in five years, Clockwork Angels, Rush frontman Geddy Lee talks about singing drummer Neil Peart's lyrics:
More chart positions have been revealed for Clockwork Angels. The album has now achieved the following positions:
Canada - #1
US (Billboard) - #2 (Top 200), #3 (Digital Albums), #1 (Rock Albums), #1 (Hard Rock Albums), #1 (Taste Makers Albums)
Japan - #2
Norway - #10
Germany - #11
Holland - #11
Switzerland - #21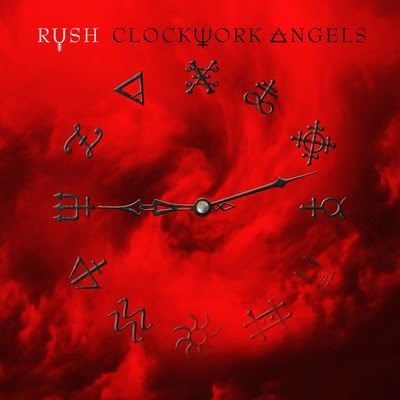 Clockwork Angels is out now as a regular CD, digital download and deluxe double-vinyl version.