DEVIN TOWNSEND - Talks To BraveWords.com
April 19, 2011, 11 years ago
Vocalist/musician/producer DEVIN TOWNSEND (STRAPPING YOUNG LAD) spoke with BraveWords.com recently in Finland. Check it out above:
Townsend will release two albums - Deconstruction and Ghost — which are the third and fourth in a series of albums to be made available under THE DEVIN TOWNSEND PROJECT banner, on June 21st (one day earlier internationally) via InsideOut Music.
The album artworks and tracklistings can be found below:
Deconstruction tracklisting:
'Praise The Lowered'
'Stand'
'Juula'
'Planet Of The Apes'
'Summera'
'The Mighty Masturbator'
'Pandemic'
'Deconstruction'
'Poltergeist'
Deconstruction guest musicians:
* Mikael Åkerfeldt (OPETH, BLOODBATH)
* Ihsahn (EMPEROR)
* Tommy Rogers (BETWEEN THE BURIED AND ME)
* Joe Duplantier (GOJIRA)
* Greg Puciato (THE DILLINGER ESCAPE PLAN)
* Floor Jansen (AFTER FOREVER, REVAMP)
* Oderus Urungus (GWAR)
* Paul Masvidal (CYNIC)
* Fredrik Thordendal (MESHUGGAH)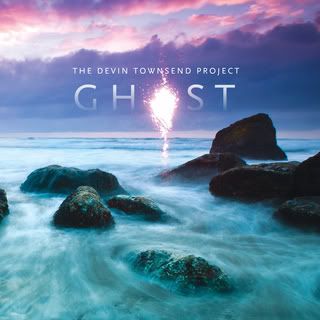 Ghost tracklisting:
'Fly'
'Heart Baby'
'Feather'
'Kawaii'
'Ghost'
'Blackberry'
'Monsoon'
'Dark Matters'
'Texada'
'Seams'
'Infinite Ocean'
'As You Were'
Devin Townsend will support CHILDREN OF BODOM (or COB) on their North American headlining tour in support of their new album, Relentless Reckless Forever.
Ugly World Tour will kick off in Los Angeles on June 24th and run through July 24th in Montreal, where COB will perform alongside KISS, MOTÖRHEAD and more as part of the Heavy MTL hard rock festival.
Openers OBSCURA and SEPTICFLESH will rotate positions each night.
Ugly North American Tour dates, with Devin Townsend, Obscura and Septic Flesh, include:
June
24 - Los Angeles, CA - House of Blues
25 - San Francisco, CA - Slim's
26 - Portland, OR - Roseland
27 - Seattle, WA - Showbox at the Market
28 - Vancouver, BC - Commodore Ballroom
30 - Calgary, AB - MacEwan Ballroom
July
2 - Edmonton, AB - Edmonton Events Center
3 - Saskatoon, SK - Odeon
4 - Winnipeg, MB - Garrick Center
5 - St. Paul, MN - Station Four
6 - Chicago, IL - House of Blues
8 - Atlanta, GA - Masquerade
9 - Orlando, FL - BeachamTheater
10 - Ft. Lauderdale, FL - Revolution
12 - Pittsburgh, PA - Mr. Smalls
13 - Norfolk, VA - The Norva
14 - Springfield, VA - Jaxx
15 - Springfield, VA - Jaxx
16 - New York, NY - Best Buy Theatre
17 - Philadelphia, PA - Trocadero Theatre
19 - Worcester, PA - Palladium
21 - Halifax, NS - Multipurpose Centre (* no Devin Townsend)
23 - Toronto, ON - Downsview Park (* as part of Heavy TO with Megadeth, Rob Zombie, Slayer, etc.)
24 - Montreal, QC - Parc Jean-Drapeau (* as part of Heavy MTL with KISS, Motörhead, etc.)
Canadian fans have the opportunity to purchase special COB ticket + album + merch bundles. For further details, please visit this location.