HALCYON WAY - IndoctriNation Promo Video
October 28, 2011, 10 years ago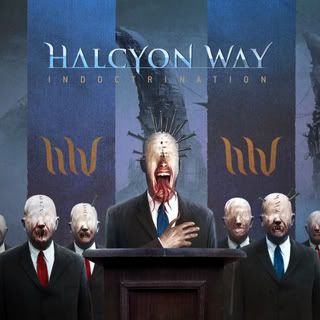 HALCYON WAY's new album, IndoctriNation, is out now via Nightmare Records. Check out a promo clip for the album below:
IndoctriNation is the sequel to 2010's Building The Towers and continues the sound and theme of that album.
BW&BK; scribe Carl Begai recently caught up with guitarist Jon Bodan. An excerpt is available below:
Bodan reveals the new album features material that was penned during the Building The Towers sessions and polished while he was being treated for lymphoma over the last 10 months. The material has been on the backburner for quite some time.
"When we did A Manifesto For Domination, from the time we started tracking it to the time it came out, it was nearly five years. We changed vocalists, there were other line-up changes, so it took a long time. That whole time we were writing new material, so we had a ton of new songs written for Building The Towers ready to go. We actually tracked 16 songs during the Building The Towers sessions and were kind of torn the whole time, because we felt very strongly about all the material. We didn't know if we were going to put out a double CD, which would have been too long, or if we should put out two albums. We ultimately decided to go with two albums, putting them out as a Part 1 and Part 2. It was just a matter of hashing out the details once Building The Towers came out."
IndoctriNation continues Halcyon Way's "equal parts prog and metal" direction, a sound that has roped in fans from both sides of the fence. For every DREAM THEATER or FATES WARNING fan that may be put off by bassist Kris Maltenieks' death-inspired growls, the band's melodic assault is attractive. Likewise, traditional metal fans that get off on acts like CAGE or PRIMAL FEAR can find worth in Halcyon Way's no-nonsense crush groove in spite of their technical overtones. None of it is a put-on; Bodan and Company come by their musical schizophrenia honestly.
"I grew up as a fan of Bay Area thrash, went from there and got into death metal. But at the same time I veered off and got into prog metal as well. I'm really into stuff like old QUEENSRYCHE and Fates Warning, things along those lines that are technical yet song-oriented. Our bass player and drummer have a black metal side project, my first band was a death metal band, so we're definitely geared in a heavier direction rather than music featuring frilly keyboards and accompanied by silk shirts and lace-up leather pants (laughs)."
Go to this location for the full story.