Heavy Metal's Gates Volume 1: Ascension - Promo Video
July 28, 2011, 11 years ago
Heavy Metal magazine's Gates, Volume 1 – Ascension, will be released on August 9th, with all net proceeds from the sale of the audio companion to the comic, will benefit the RONNIE JAMES DIO Stand Up And Shout Cancer Fund. An exclusive premiere of the promo video can be viewed above.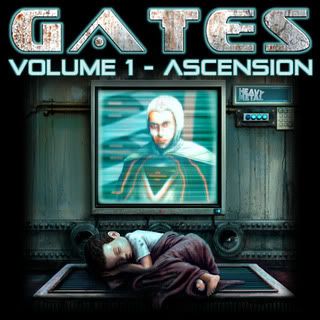 Ronnie James Dio appeared on the 1981 soundtrack for the Heavy Metal film while a member of Black Sabbath. In homage to the original soundtrack, Hal Hefner assembled an international collection of eclectic sounds that span styles from Metal to Ambient and everything in between.
Hal Hefner, the creator of Heavy Metal Presents: Gates worked with artists LoveKrafty and Inside The Black to create all-new music to accompany the comic, and brought in other artists including Deltanaut, Hemoptysis and Black 'N Blue to complete the comic's music companion.
"This is a solid lineup of talented artists from across the world that have come together to form a transmedia experience that is very unique," said Hal Hefner. "I'm excited and honored to bring these artists together to be paired with my comic book art and writing. It is also an honor to be donating the entire proceeds of the sale of the soundtrack (only minus the retailers' percentage) to the Ronnie James Dio Stand Up and Shout Cancer Fund."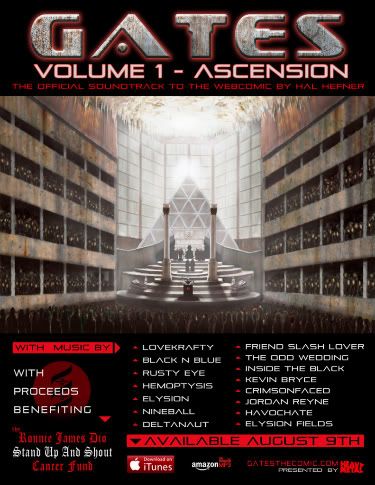 The complete soundtrack will be available August 9 for digital download on iTunes and AmazonMP3.
Artist lineup: LOVEKRAFTY, BLACK N' BLUE, INSIDE THE BLACK, DELTANAUT, THE ODD WEDDING, CRIMSOFACED, JORDAN REYNE, HEMOPTYSIS, FRIEND SLASH LOVER, RUSTY EYE, KEVIN BRYCE, NINEBALL, ELYSION, HAVOCHATE, ELYSION FIELDS.
For further news and information, please visit Heavymetal.com.