HOWL - 'Heavenless'
June 16, 2011, 11 years ago
HOWL has premiered their brand new video, for 'Heavenless', which comes from Howl's debut full-length, Full Of Hell. The clip was filmed in Brooklyn, NY with director Charlie Scharfman and producer Alex Sharfman for ScharfmanProductions.com. Check it out below: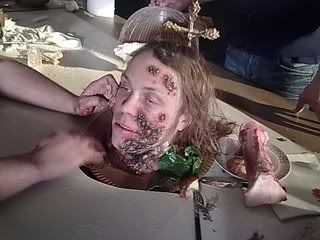 Exclusive behind-the-scenes photos from the video shoot can be seen now via the Howl
Facebook
page, including the special effects make-up process and making of prosthetic heads.
Howl has just completed a full US tour in support of Full Of Hell alongside HELMET, ST. VITUS, CROWBAR, RED FANG and more. The band is currently home working on new material with plans to record later this year.