PRIMAL ROCK REBELLION - 'No Place Like Home'
February 22, 2012, 10 years ago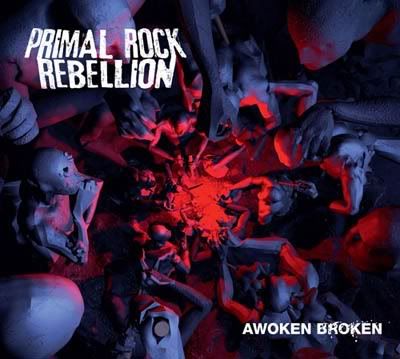 IRON MAIDEN guitarist Adrian Smith and former SIKTH frontman Mikee Goodman's new studio project, PRIMAL ROCK REBELLION, will release their debut album, Awoken Broken next week! Check out the new video for the track, 'No Place Like Home' below:
Awoken Broken tracklisting:
'No Friendly Neighbour'
'No Place Like Home'
'I See Lights'
'Bright As A Fire'
'Savage World'
'Tortured Tone'
'White Sheet Robes'
'As Tears Come Falling From The Sky'
'Awoken Broken'
'Search For Bliss'
'Snake Ladders'
'Mirror and the Moon'
A complete album preview can be found below:
Awoken Broken - A Preview by PrimalRockRebellion
According to a press release, "Primal Rock Rebellion is the meeting of different minds, different mentalities and different musical backgrounds, but the end result is very much a cohesive, self-produced whole… albeit one that reflects the individual talents of the musicians involved: Adrian provides the guitars, the bass and the advanced song-writing skills – the sense of drama, of light and shade, of music designed to stir the senses, all of them. Right from the start, it's been very much a labour of love…"
Adrian Smith: "It was great working at my own pace and in my own studio with no time constraints. I think during the making of this album I went around the world twice with Maiden, working on the project in between. In the process, it allowed for a bit more of an experimental approach."
Mikee Goodman: "Adrian inspired me in many ways. I learnt the importance and the power of choruses in songs. Adrian also gave me a lot more belief in myself melodically. I think we pulled each other out of our comfort zones, creating something fresh and exciting along the way. We co-produced the album together, and the whole recording process was very relaxed – no deadlines, just honing the songs naturally as we recorded them, a new experience for both of us."