ADRENALINE MOB Drummer Mike Portnoy - New Audio Interview Streaming
March 9, 2012, 10 years ago
Sin City Animal has issued a new audio interview with drummer Mike Portnoy (ADRENALINE MOD, ex-DREAM THEATER), in which he discusses how Adrenaline Mob was formed and much more about the band. Listen below:
Dimitris Kontogeorgakos at Metal Kaoz recently caught up with Portnoy, who talked about Adrenaline Mob's upcoming release party for their new album, Omerta, scheduled for a March 12th. An excerpt is available below: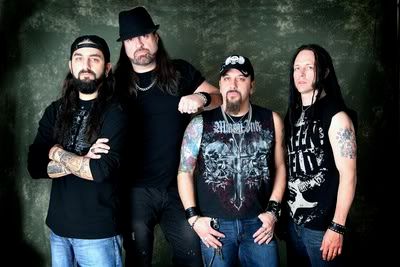 Q: You have scheduled a release party for Omerta for the 12th of March; what are your plans for that?
Portnoy: "We are going to play the album from start to finish and I think this is a cool idea since usually in album release parties the CD is just playing in the background. Adrenaline Mob is a live band with a lot of energy, so instead of having a DJ playing our music, we are going up there and play all the songs. After all, I don't know if we will have the opportunity to do that again. This will be also the live debut of our new bass player John Moyer and that makes it even more special. In fact, the release party is the same place where Adrenaline Mob made the live debut last year."
Q: Now that you mentioned John, I have to ask you: is he an Adrenaline Mob permanent member or he was just called to fill in?
Portnoy: "Well, he is in the band (laughs) and frankly I don't know if we can consider anything permanent in life. I learned that lesson pretty well myself. Anyway, John is in the band and I hope (in fact we all hope) to be in this band for the long term. We have all the intentions in the world to hold this lineup."
Q: Did you have any auditions to find a bassist?
Portnoy: "He did not get into an audition stage. We had a short list of bass players but as soon as John's name came up, he was the first to be chosen. I just sent him a text saying 'Hey dude, what are you doing for the next year?' He called me back immediately and said he was interested. He spent two days with us and once we played with him, we all knew he was the perfect guy. This was the first and last audition."
Q: That's great. Adrenaline Mob "lost" the second guitarist since Rich Ward (FOZZY, STUCK MOJO) left. Are there any plans to find a replacement?
Portnoy: "When we were auditioning John, there were some plans to start looking for a second guitarist. But we decided to try the band as a four piece and see how it would sound. In fact, Russ and Mike were both kind of pushing the idea of having the band with four members. So, the audition with John also worked as a trial period for us to see how this would work and it sounded fucking amazing! You can hear Mike's guitar playing a lot better. All of our favorite bands feature four members with one guitar like BLACK SABBATH, VAN HALEN and PANTERA, so we chose to stick with that."
Go to this location for the complete interview.
Adrenaline Mob recently issued the following update:
"Come celebrate the release of our debut CD, Omertà, with us at the Hiro Ballroom (New York City) on March 12th. We'll be performing the entire album LIVE!"
Tickets are available at this location.
According to a press release: 2012 is shaping up to be some year for Adrenaline Mob. The band, featuring the powerhouse vocals of Russell Allen, the shredding guitar attack of Mike Orlando and the drumming virtuosity of Mike Portnoy, just found the missing piece their lineup needed. John Moyer, half of the rhythmic backbone of multi platinum rock juggernauts Disturbed, is stepping in to fill the recently vacated bass player spot. They all got together and after one jam session, the band knew they had found the newest member of the family. John will be making his on-stage debut with Adrenaline Mob on March 12th when they play their record release event at Hiro Ballroom in New York City.
Says Moyer: "Mike Portnoy called me about auditioning for his new band Adrenaline Mob. He had heard through the grapevine that I was looking to stay busy while Disturbed is on hiatus. After jamming with Russ, MO, and Portnoy, the chemistry as musicians was undeniable. I am super stoked about joining "The Family" and I can't wait to hit the road with these guys and see what kind of musical mayhem we can create!"
Adrenaline Mob will release their debut full-length album, Omertá, on March 13th. Serving as the follow-up to Adrenaline Mob's self-titled EP, Omertá will be released in North America by the newly formed Elm City Music in conjunction with EMI Label Services. Century Media Records has announce a licensing deal to release the album on March 19th in Europe.
Omertá was produced by Adrenaline Mob and mixed by Jay Ruston (ANTHRAX, STEEL PANTHER), and will feature the following 11 songs:
'Undaunted'
'Psychosane'
'Indifferent'
'All On The Line'
'Hit The Wall'
'Feelin' Me'
'Come Undone' (DURAN DURAN cover ft. Lzzy Hale of HALESTORM)
'Believe Me'
'Down To The Floor'
'Angel Sky'
'Freight Train'
Samples for the tracks 'Undaunted', 'Indifferent', and 'All On The Line' can be heard at this location.
'Undaunted', is now available via iTunes.
The video for the track can be seen below:
Adrenaline Mob have again updated their live schedule for the summer. It is now as follows:
June
16 - Szene - Vienna, Austria
17 - Conrad SOHM - Dornbirn, Austria
18 - Z7 - Pratteln, Switzerland
20 - Orion - Rome, Italy
21 - Gods Of Metal - Milan, Italy
23 - Graspop Metal Meeting - Dessel, Belgium
July
8 - Bospop Festival - Weert, Netherlands
Go to this location for ticket information and updates.