FOZZY Frontman Chris Jericho On Touring With SAXON - "They're Really A Breathing, Vibrant Rock N' Roll Band; They're Not Just Phoning It In"
September 3, 2013, 9 years ago
FOZZY frontman and WWE wrestling superstar Chris Jericho is featured in a new interview with Jay Nanda at the San Antonio Metal Music Examiner. An excerpt is available below: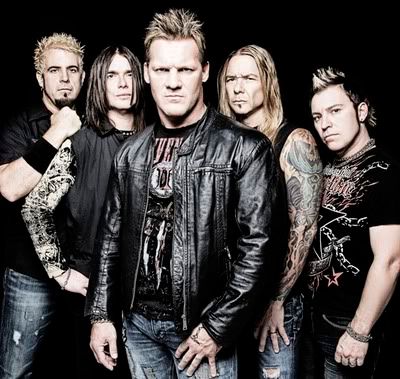 Q: You don't hear of many tour pairings having a classic/current feel like this one does. What are you looking forward to the most about touring with SAXON?
Jericho: "I think that's one of the reasons why we like it. It's one of the reasons why Saxon liked it, is it isn't just your typical, 'OK, it's Saxon, let's stick 'em with ANVIL or something like that.' I think one of the reasons why you do a big tour like this is to gain new fans. We toured last summer with SHINEDOWN and GODSMACK throughout the States. And now this summer we're doing it with Saxon. So I think one of the most important things for our band that's been able to see us grow so much over the last few years is the diversity of what we do and the diversity of who we play with. We always knew we could play with anybody from Shinedown to SLAYER, and we believe that because our music appeals to a lot of different people. So getting back to what you're saying and how the idea for Saxon came up, obviously we're huge Saxon fans. Very legendary band, very influential. But the thing that really appealed to me is the fact their last couple of records, more specifically their last record Sacrifice, is one of the best records they've ever done. They're still putting out great material even at this stage of the game. And they're really a breathing, vibrant rock n' roll band, which I thought was really, really important. They're not just phoning it in. They're still out there to kick ass. And also too, they've got something good in the States. They're still headlining major festivals in Europe and in the UK, but they haven't toured the States for awhile. And this is kind of a big return. There's going to be a lot of Saxon fans that don't know Fozzy or Fozzy fans that don't know Saxon. But at the end of the night, those people are going to leave being fans of both bands, and that's why you do something like this."
Click here for the complete interview.
Fozzy's dates with Saxon and HALCYON WAY include:
September
12 - The Emporium - Patchogue, NY
13 - BB Kings - New York, NY
14 - Corona Theater - Montreal, QC
15 - The Phoenix - Toronto, ON
17 - Reverb - Redding, PA
18 - Peabody's - Cleveland, OH
19 - McGutty's - Dayton, OH
20 - Machine Shop - Flint, MI
21 - Majoe's - Joilet, IL
22 - The Rave Basement - Milwaukee, WI
26 - House of Blues - Dallas, TX
27 - Backstage Live - San Antonio, TX
28 - House of Blues - Houston, TX
October
1 - Club Red - Tempe, AZ
2 - Gastamp - Long Beach, CA
3 - Ramona Mainstage - Ramona, CA
4 - House of Blues - Los Angeles, CA
5 - M15 - Corona, CA
6 - DNA Lounge - San Francisco
8 - Studio Seven - Seattle, WA
9 - Mt. Tabor - Portland, WA
10 - The Venue - Vancouver, BC
Fozzy recently announced some headline dates during their upcoming tour supporting SAXON. Dates without Saxon include:
October
13 - The Exchange - Regina, SK
14 - Union Sound Hall - Winnipeg, MA
15 - POV's 65 - Spring Lake Park, MN
18 - 120 Tavern - Marietta, GA