HAPPY NEW YEAR!!! Brave Pick #1 Is Finally Here!!!
January 1, 2011, 10 years ago
HAPPY NEW YEAR!!!
The wait is over. 2011 is upon us and we can now officially unveil the #1 album as chosen by the devout scribes here at BW&BK;/BraveWords.com! You've been waiting all month for this moment and without further adieu, may we introduce the #1 Brave Pick Of 2010. Drum roll please...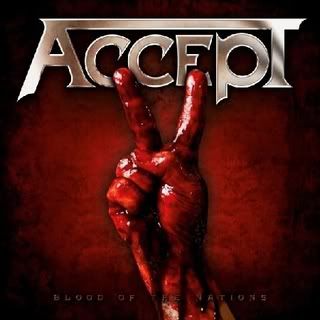 #1 - ACCEPT - Blood Of The Nations (Nuclear Blast)
The planets aligned for Accept in 2010. The unthinkable happened. Who would've thought that an Udo-less Accept would conquer the metal world, but guitar hero Wolf Hoffmann proved us all wrong with astounding vision and glorious riffs. Accept rolled the dice again, chose T.T. QUICK frontman Mark Tornillo and the bet paid off tenfold! Blood Of The Nations was a storming comeback and the band's return peaked when the album landed at #4 on their homeland (Germany) chart. Damn, Balls To The Wall and Metal Heart didn't touch those numbers. Blood Of The Nations has become an essential piece of the Accept catalog.
BW&BK;'s Mark Gromen lit the fire in June with an exclusive track-by-track breakdown of the album that can be read here.
About the comeback Wolf Hoffmann told BW&BK;: "We really just wanted to prove to the world that we've still got it, and we got a little bit ticked off about the early people who said it couldn't be done, which in turn made us try even harder. We wrote this whole album in two or three months. And this is all brand-new stuff. We just met Mark and figured he's the perfect man for the gig, and we sat down and asked him whether he wanted to join us. And we called the other guys and within a day or so it was decided that we were gonna re-start Accept. And then we sat down and said, 'oh, shit, now we need to write new songs, so let's get to it.' And Peter (Baltes; bass - who is also the hand model on the album cover!) and I did, and we wrote all that stuff over the summer last year."
Read the entire BW&BK; interview here.
Brave Picks Top 30 Of 2010
#30 - STONE SOUR: Audio Secrecy (Roadrunner)
#29 - APOCALYPTICA - 7th Symphony (Sony)
#28 - TWILIGHT: Monument To Time End (Southern Lord)
#27 - HAIL OF BULLETS - On Divine Winds (Metal Blade)
#26 - FORBIDDEN - Omega Wave (Nuclear Blast)
#25 - KROKUS - Hoodoo (Columbia)
#24 - AIRBOURNE - No Guts. No Glory. (Roadrunner)
#23 - SOILWORK - The Panic Broadcast (Nuclear Blast)
#22 - TRIPTYKON - Eparistera Daimones (Century Media)
#21 - DARKTHRONE - Circle The Wagons (Peaceville)
#20 - NEVERMORE - The Obsidian Conspiracy (Century Media)
#19 - FOZZY - Chasing The Grail (Riot)
#18 - EXODUS - Exhibit B: The Human Condition (Nuclear Blast)
#17 - MISERY INDEX - Heirs To Thievery (Relapse)
#16 - ARMORED SAINT - La Raza (Metal Blade)
#15 - BLIND GUARDIAN - At The Edge Of Time (Nuclear Blast)
#14 - GAMMA RAY - To The Metal (earMusic)
#13 - MURDERDOLLS - Women And Children Last (Roadrunner)
#12 - RATT - Infestation (Loud & Proud/Roadrunner)
#11 - BLACK LABEL SOCIETY - Order Of The Black (E1)
#10 - KYLESA - Spiral Shadow (Season Of Mist)
#9 - FEAR FACTORY - Mechanize (Candlelight)
#8 - IHSAHN - After (Candlelight)
#7 - DILLINGER ESCAPE PLAN - Option Paralysis (Party Smasher/Season Of Mist)
#6 - IRON MAIDEN - The Final Frontier (EMI)
#5 - NACHTMYSTIUM - Addicts: Black Meddle, Part II (Century Media)
#4 - GRAND MAGUS - Hammer Of The North (Roadrunner)
#3 - OVERKILL - Ironbound (Nuclear Blast)
#2 - ENSLAVED - Axioma Ethica Odini (Nuclear Blast)
#1 - ACCEPT - Blood Of The Nations (Nuclear Blast)