METALLICA's James Hetfield On Death Of THIN LIZZY's Phil Lynott - "Why Did God Take Such A Creative Person?"
February 26, 2011, 12 years ago
A host of Irish and international stars have come together in our special issue, marking the 25th anniversary of the death of the THIN LIZZY frontman Phil Lynott. The Hot Press Philip Lynott Special, which hits shelves last week, includes interviews with a wide range of artists who either worked with Philo, or were influenced by his work.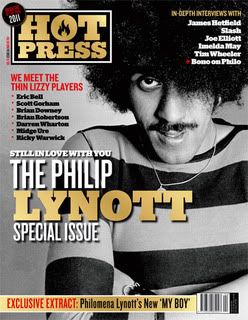 They include, among others, Slash (VELVET REVOLVER, ex-GUNS N' ROSES), Joe Elliott (DEF LEPPARD), James Hetfield of METALLICA, (who recorded a cover version of Thin Lizzy's first hit 'Whiskey In The Jar'), Laura Izibor, Imelda May and Bono.
It also includes reminiscences of key members of Thin Lizzy, including Eric Bell, Scott Gorham, Brian Downey, Brian Robertson and Midge Ure.Speaking on Phil's death, James Hetfield reflects, "It was one of those moments that was so sad. You just wondered, 'Why did God take such a creative person?'. But I think there was a purpose to it all, because the struggles that he wrote about: with drugs, drink, ethnicity, all of those things, they almost speak louder now he has passed. For me, going through the struggle with alchohol and addiction in general, just going back and listening to his lyrics it's like, 'Wow, I know what he's talking about now'. I love that."
"He was an amazing frontman," Bono says. "If that lyrical, musical ability has to be matched with showmanship, attitude and style – if that's your version of rock'n'roll – there's no way past Philip Lynott. He's at the top of the tree."
Apart from musicians, the Hot Press Philip Lynott Special also goes behind the scenes to talk to music business insiders who worked with Lynott and Thin Lizzy, including tour manager Frank Murray, manager Chris O'Donnell and publicist Terry O'Neill.
Hot Press editor Niall Stokes says, "Working on the Hot Press Philip Lynott Special was one of the most emotional projects we've ever taken on. Philo seemed to tap into a seam of almost universal goodwill. He was a real Irish hero. As time goes by there's an increasingly deeper appreciation of the man, his talent and his music, making his premature death all the more poignant and tragic. Fortunately, he left behind an extraordinary wealth of fantastic memories and great music, and this is what the special issue sets out to capture."
The Hot Press Philip Lynott Special, out today, comes amid a flurry of Lynott-related activity. March 4 will see The Philip Lynott Exhibition opening at the St. Stephen's Green Shopping Centre, where it will run into April, and the month will also see the release of a fully updated brand new edition of My Boy, the book written by Philip's mother Philomena with Hot Press' Jackie Hayden.
You can buy the magazine here.