NIGHTWISH To Kick Off Imaginarium Tour In Los Angeles
March 14, 2011, 11 years ago
NIGHTWISH have announced that the very first show for the Imaginarium World Tour will take place at the Gibson Amphitheatre in Universal City, CA, on Saturday, January 21st, 2012.
This will be the biggest Nightwish show production ever on North American soil and strictly a one-off - there will be no US tour until later in 2012. Ticket sales will begin soon.
Nightwish singer Anette Olzon recently posted the following update:
"Today me, Ewo (Pohjola, Nightwish Manager) and Tuomas (Holopainen, Nightwish leader/keyboardist) decided that its better if I rest the whole month and get in shape so I can do the vocals super good, and have booked my vocal recordings from April 4th instead, in another studio in Finland. This is really good cause no one will be happy if the album doesn't sound perfect. And we dont have any hurry since the album has plenty of time to get mastered and ready still.
So I´ll rest and rest and hopefully soon be able to move a bit more. I have now been lying down for a week and even if I cant do anything it is of course quite boring.
Yesterday something happened that might have been good. I lied down and just turned to the right and it "popped" really loud from the ribs and I could feel the bones move. After that I feel I can breathe a bit easier so maybe the bones were "put in their places" and can start to heal now. I really do hope so!"

In a recenty interview with Tuomas Holopainen and Solar Films director Stobe Harju, the pair talk about the Imaginarium album and movie of the same name. Check out the YLE video below:
Holed up in the studio for the better part of this spring, Nightwish's new album is scheduled to be released early in 2012, followed by the movie after an indefinite time. The first single off the album as well as the trailer for the movie should appear well before the end of the 2011.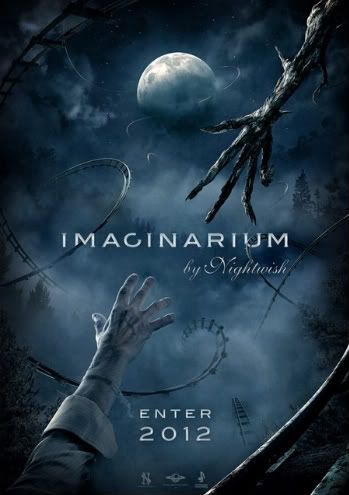 A recent update from Nightwish reads as follows:
"After about five hundred post-it notes, two hundred written pages, hundreds of reference pictures, five hundred storyboard pictures, millions of bloody tears, mixed feelings of joy, extensive courting, happy coincidences, and more than two and a half year's of planning, it's time to report about the progress of the Imaginarium movie.
The pre-production of Imaginarium is already in full swing. Pretty much everything revolves around the script, which is currently being finalized. This is the phase when the dialogue is honed to perfection and dramaturges offer critical feedback of the plot.
Pre-production is also the stage when various artists, led by the director, commence work on the sets, props, costumes, and make-up. Concept art is drawn, and both the director and the director of photography discuss the cinematography and the mode of story-telling with the help of the storyboard.
Unfortunately, pre-production is also a time of rejection, when many original visions have to give way for harsh reality. This is not bad as it seems, however. The story usually crystallizes at this point, and many ideas that originally felt so great reveal themselves to be essentially superfluous. And that's a good thing.
Pre-production usually lasts several weeks, and coordinating the shooting schedule and especially building the sets, sewing the costumes and preparing the SFX can take months. So writing this a week from now would still be topical.
Each time we've listened to the Imaginarium demo, it has not failed to cause satisfied laughter, emotion-filled tears, or strong shivers in us. We hope that when the time comes, you'll share those same feelings when watching Imaginarium on the silver screen or from the comfort of your sofa.
We bid you welcome to follow these waypoints on the road to Imaginarium.
Enter 2012."

In a new interview found on their official website, Nightwish mailman Tuomas Holopainen reveals what the concept of their forthcoming album Imaginarium is all about. Read more at this location.
Nightwish recently posted video footage and photos from their recent orchestral sessions with Pip Williams held at Angel Studios in London, UK from February 14th-20th. Check it out the video on YouTube below:
Photos courtesy of Anette Olzon's official blog can be viewed below. Check out many more here.