RUSH - Audio Clips Of All Tracks On Clockwork Angels Available
May 31, 2012, 11 years ago
Walmart.com is now streaming audio samples of all 12 tracks from the new RUSH album, Clockwork Angels. Go to this location to check them out.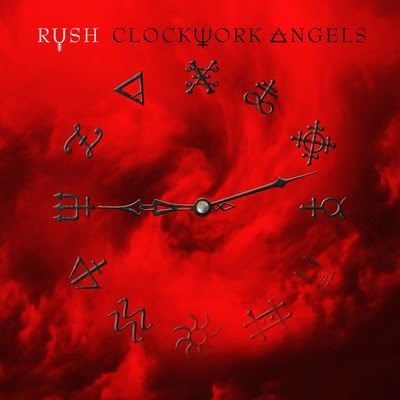 Clockwork Angels is due to be released on June 12th. The tracklist is as follows:
'Caravan'
'BU2B'
'Clockwork Angels'
'The Anarchist'
'Carnies'
'Halo Effect'
'Seven Cities Of Gold'
'The Wreckers'
'Headlong Flight'
'BU2B2'
'Wish Them Well'
'The Garden'
An excerpt from BW&BK; scribe Martin Popoff's review of the album is below:
Hard to believe, but this is the first full concept album for the Willy Wonkas of prog metal, Clockwork Angels being a complicated, oblique, angled tale involving less steampunk than rumour had it and much more about the march of time, all wrapped up in the meaninglessness for the non-believer, except for some sort of inner temple-building, or a garden as it were, Candide-style. If Vapor Trails was in the spirit (but not the sound) of red, yellow and blue Crimson (frantic, textured, high on the shelf), Clockwork Angels is in the glorious yet dour (an apt result of ascribing to Neil's belief system) spirit of Wetton-era Crimson mixed with Van Der Graaf Generator, with all the Victorian weight lead-lined in a box of the two institutions. And therein lies one of a few steampunk nods, as there's no one more "watchmaker" than Peter Hammill.
A singular Rush triumph results, and yes, before we even get to the music, there really is so much to ponder here, as there's lyrics, light narration, visuals, and then an exo-story by Kevin J. Anderson. And like the best concept albums, the lyrics alone are mostly abstraction, with further abstraction caused by demarcation into their necessary chapters, welcome, so that these hugely ambitious and exclusively dark songs can stand on their own as Rush songs, soon to be mouthed by crowds in the wrongness for this of hockey barns.
But the concept nature is not the least of why this feels like the most unified and purposeful Rush album since Vapor Trails and before that, Signals and its pastels – it's the baffling music, an almost new invention, or new is old, or "the future as it's meant to be" in steampunk parlance. Gone is Alex's trinket of layering in acoustic to accompany the riff (I always thought this sounded like a tear in the woofer), and also gone, then, logically, is any of the tinkle in Rush production, the brightness, which started with Grace and then reared its head to varying degrees and with often enrageable persona throughout, on every album, save I suppose for Vapor Trails.
Check out the complete review here.