WHITESNAKE Introduce New Keyboardist For Forevermore World Tour 2011
March 21, 2011, 11 years ago
WHITESNAKE has announced new touring keyboardist/vocalist Brian Ruedy (pictured below) from Orange Country, California, for the band's Forevermore World Tour 2011.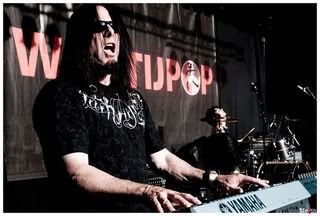 Brian has worked in a succession of bands through the years, including most recently BRET MICHAELS, Brian Head Welch of KORN. Brian recently reconnected with guitarist Doug Aldrich which led to him becoming involved with Whitesnake.
Brian states: "I am honored and privileged to be part of the Whitesnake Family. Its an incredible opportunity. I am excited to bring new sounds and flavors to Whitesnake. I look forward to expanding on the already great Whitesnake material."
Brian is already immersing himself in the catalogue of Snake songs in preparation for the band's upcoming rehearsals for the Whitesnake Forevermore World Tour 2011.
Whitesnake's live itinerary can be found at this location.