SINGLE BULLET THEORY - 'Diabolical'
November 18, 2011, 11 years ago
BraveWords.com is exclusively premiering the new video from SINGLE BULLET THEORY called 'Diabolical', which can be found on their latest album, IV. Click above to view.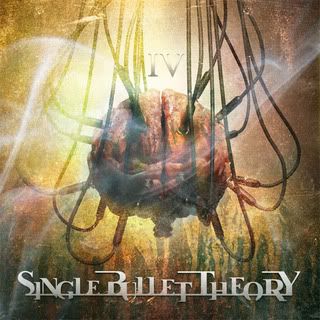 Founding member Matt DiFabio (formerly of PISSING RAZORS) talks about the clip:
"We choose 'Diabolical' because we wanted to film a concept video this time (as our last two were strictly performance). 'Diabolical' has the easiest concept to get across to the viewer. Plus, we wanted to come out of the gate with all guns blazing on this record. I feel 'Diabolical' was the perfect choice due to its speed and sheer brutality. The song does not really tie into the theme of IV. Its more of a left of center approach for Single Bullet Theory as our songs usually are introspective and 'Diabolical' is totally written in the third person."This track lyrically is sorta out of the typical realm of SBT lyrics," DiFabio adds. " I usually write about the human psyche or different topics that may be personal or close to home. This song however came together very quick vocally and musically. I wrote this from a third person perspective on a serial killer. Basically, when you read about one of these assholes in the paper or on the news. I try to outline the thought process, the grasp for power, why this person may want to kill… whether it's over lust, pain, jealousy….. whatever it may be. There are too many of these sick bastards out there and what's worse is the way they get sensationalized in the media. More people can tell you what Heidnik or Gein are famous for then what Darwin or Edison are famous for. Musically, I wanted to create a whirlwind of speed and intensity, the song sorta barrels down the tracks like a rogue freight train with no brakes. I think this was the perfect opening track for IV."
IV is described as "a much more musically diverse yet [more] muscular" effort than the band's previous releases, and it contains a nine-minute instrumental track called 'Auctioneer Of Souls'. The track features guitar solos from twenty of metals finest and is destined to become a classic."

Joining Matt DiFabio are new members John Ruszin III (guitar), Jeff Kalber (bass) and international drumming sensation, Acacio Carvalho (drums). All drum tracks were recorded at Clay Creek Studio in Newark, Delaware with engineer Nick Rotundo. The remainder of the record was recorded at Ruszin's studio in Wenonoh, New Jersey.
IV also contains bonus tracks from previous sessions, including a guest performance from Matt Thompson (KING DIAMOND) on a cover of DEATH's 'Spirit Crusher'.
IV tracklisting:
'Echoes Of The Past'
'What Have I'
'Letting Go'
'Diabolical'
'Leviathan Smiles'
'Auctioneer of Souls'
'Hands of the Wicked'
'The Wake of Betrayal'
'Samsara'
CD Bonus Tracks
'Spirit Crusher' (Death cover)
'The Hurt That Never Ends'