DAVID "ROCK" FEINSTEIN On Recording 'Metal Will Never Die' With RONNIE JAMES DIO - "It Means More To Me Than Any Other Song I've Written"
November 14, 2010, 11 years ago
DAVID "ROCK" FEINSTEIN, former member of RONNIE DIO & THE PROPHETS, THE ELECTRIC ELVES, ELF, and the leader of the legendary NYC band THE RODS, recently discussed his new album Bitten By The Beast with Rock Music Star. An excerpt from the interview is available below:
Q: Ronnie (James Dio) sang on the first single 'Metal Will Never Die' from your new CD. When was his vocal track recorded?
DRF: "Actually, it was recorded about two years ago. A lot of people think that I wrote the song about him, but what happened, was that for years Ronnie and I talked about doing some music project together, like an ELF reunion, or a guest appearance on a Rods album, or a solo album. We wanted to do something, but he lived 3000 miles away from me, so that made it a bit difficult. He also had a very busy schedule. But when we would see each other, we would always talk about it. In my mind, I always wanted to do something and he did too. And then a couple years ago, his mother become ill, so he was coming back home pretty frequently. I got a call one day and he said he was going be in town for a few days and he would be able to sing a couple of songs. Coincidentally, I had just written 'Metal Will Never Die' the day before he call. Carl (drummer of the Rods) and I were in the process of putting together a new Rods record. So, the next day I got together with Carl and told him that Ronnie was coming over, so we need to pick out a couple songs that he can sing on. But before we did that I wanted to make a demo of the song that I just wrote because I didn't have it down on tape yet and I didn't want to forget it. So we put together a demo version and when we finished it, I said this is one of the songs that Ronnie has got to sing. It would be perfect for him. So we chose that songs and another one, which will be on the next Rods record. The next day, I picked Ronnie and Wendy up at the airport and gave him a CD of two songs that he had never had heard before. We didn't listen to them on that night, because he just flew in. We just socialized and had a few beers. But then the next day, we came into the studio and he put the songs into a boom box and listened for a bit, and then did a world class performance on both of the songs. It was unbelievable, but that was the way that Ronnie worked. I was exposed to that in working with him before, but Carl hadn't. And Carl couldn't believe that Ronnie could just go in a nail it right away. Ronnie also had a unique talented of knowing exactly what a song needed. And that's what he did with 'Metal Will Never Die'.
Q: Recently, there was a picture of Ronnie and you in the studio posted. I thought that he sang on that track when that photo was taken.
DRF: "That was in March, when will did the final mix of the album. He told me to bring the entire album and we would re-master it in the studio with the engineer - whom he always used. So I went out there in March to visit him because he was ill and we mastered the album together. Then a couple months later, the tragic events took place and he ended up passing away. Now, there is so much more meaning to that song. To me, it's the most important song of my career. It means more to me than any other song that I've written, or probably ever will write, because he and I finally got a chance to do something again together. It's part of his legacy and it's a tribute to him. I feel really bad that he can't be here to be a part in this whole thing, and see the album come out, and be part of the promotion. Or be part of a live performance of the song."
Go to this location for the complete interview.
Audio samples of all tracks featured on Bitten By The Beast are available now at this location.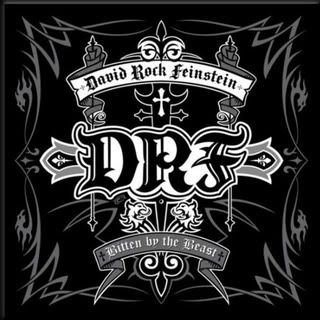 The nine-track disc comes as as a deluxe digipack, and will certainly be of interest to metal fans worldwide, due to Feinstein's impressive hard rock pedigree. But also, because the album features what turned out to be one of the last-ever recorded vocals by Ronnie James Dio (Feinstein's cousin; legendary BLACK SABBATH, HEAVEN & HELL, RAINBOW, Elf singer), on the headbanging anthem 'Metal Will Never Die'.
As a bonus, fans will receive the CD single for 'Metal Will Never Die' with each purchase of Bitten By the Beast at the in-store. This is the first non-Dio related release through the Niji Entertainment Group, which was started by Ronnie James Dio and his wife/manager, Wendy Dio, in early 2010 (shortly before Dio's tragic passing in May of this year).
Bitten By The Beast tracklisting:
'Smoke On The Horizon'
'Evil In Me'
'Break Down The Walls'
'Metal Will Never Die' (featuring Ronnie James Dio on lead vocals)
'Kill The Demon'
'Rock's Boogie'
'Give Me Mercy'
'Run For Your Life'
'Gambler Gambler'
For more info visit Bittenbythebeast.com.
Feinstein will be doing an autograph session on Tuesday, November 23rd at 7:00 PM at Vintage Vinyl, the official release day of his all-new solo effort titled Bitten By The Beast. The Rods will also perform live!
Details:
Tuesday, November 23rd
7pm
Vintage Vinyl Records
51 Lafayette Road
Fords, NJ 08863
(732) 225 7717
A brand new BraveWords.com interview with David "Rock" Feinstein about Bitten By The Beast can be viewed at this location.