FIVE FINGER DEATH PUNCH Guitarist Jason Hook - "Kevin Churko Is Really The Industry's Best Kept Secret"
October 24, 2011, 11 years ago
Jason Hook, guitarist for FIVE FINGER DEATH PUNCH, is featured in a new interview with Robert Gray at Ultimate-Guitar.com discussing the band's new album, American Capitalist An excerpt is available below:
UG: Could you provide some background information on writing and recording American Capitalist?
Hook: "We jumped in right away. When we finished up the touring cycle for War Is The Answer, we all agreed that it would be better to push ourselves and dive right back in and go to work on another record rather than continue to tour on War Is The Answer for 2011. I think that the public - in this day and age - are anxious to consume all the time. We all live in an era of consumption, and the faster, quicker and more frequent things can come the better. Having said that, we decided to go right back in and write another record. Even though it may seem premature, we'd rather push ourselves and shorten the gap between releases. We took a week off, and then we started writing. It was just basically everybody at their home studios cramming ideas on their systems, just getting together a couple of times a week, comparing notes, and sending the music back and forth. When we finally had a handful of tracks, we'd go and record them with our producer Kevin who's also in Las Vegas."
UG: What's working with Kevin Churko (producer) like?
Hook: "Kevin Churko is really the industry's best kept secret, in my opinion. He's an amazingly talented guy. He's one of these guys who has a very calm personality and a very good work ethic; he's a hard worker, likes to put in long days, never complains and never gets emotional. Yet he's always focused on the goal of completing something to the best of his ability. I've worked with producers where it's obvious that they're focused on getting paid, and the end result of the product is secondary. Kevin cares about what he's doing and he's got an extremely well developed shit meter, so he pushes us to do our best even more than we do ourselves, which is why he sits in with us so well. He's also a multi-talented guy who plays guitar, plays bass, plays piano, everything. He's just one of those guys who really adds those different flavours when you're not around, so it's really nice to have. Somebody who can add to what we're doing already."
UG: The fact Kevin plays bass came in handy for American Capitalist.
Hook: "He plays bass on American Capitalist, yeah. I'm glad that he played on bass. Obviously we went through a bass player change during the record, and we didn't really have a bass player. We were auditioning bass players during the recording of the record. Originally I was gearing up to play all the bass on the record myself. I played bass on both of my solo records and I have no problem playing bass on stuff that needs bass, but I'm really glad that I didn't have to."
Go to this location for the complete interview.
The band is headlining the Share The Welt Tour with ALL THAT REMAINS, HATEBREED, and RAINS. Their schedule is now as follows:
October
25 - Boise, ID - Taco Bell Arena
26 - Reno, NV - Knitting Factory
28 - El Paso, TX - Speaking Rock Entertainment Center
29 - San Antonio, TX - Sunken Garden
31 - St. Louis, MO - Family Arena
November
1 - Little Rock, AR - Clear Channel Metroplex Event Center
2 - Oklahoma City, OK - Diamond Ballroom
4 - Milwaukee, WI - Eagles Ballroom
5 - Grand Rapids, MI - Deltaplex Arena
6 - Indianapolis, IN - Egyptian Room at Old National Center
8 - Houston, TX - House of Blues
9 - Corpus Christi, TX - The Pavilion at Concrete Street
11 - Lubbock, TX - Lonestar Pavilion
12 - Dallas, TX - The Palladium Ballroom
14 - Atlanta, GA - The Tabernacle
15 - Greensboro, NC - Greenboro Coliseum Complex
16 - Greenville, SC - Bi-Lo Center- Pepsi Pavilion
18 - St. Petersburg, FL - Jannus Live!
19 - Orlando, FL - Hard Rock Live
21 - Baltimore, MD - Rams Head Live
22 - Philadelphia, PA - Electric Factory
23 - New York, NY - Best Buy Theater
25 - Pittsburgh, PA - Stage AE
26 - Wilkes-Barre, PA - Mohegan Sun Arena
27 - Sayreville, NJ - Starland Ballroom
29 - Niagara Falls, NY - Rapids Theater
30 - Worcester, MA - The Palladium
December
2 - Wallingford, CT - Toyota Presents The Oakdale Theater
3 - Lewiston, ME - The Colisee
4 - Montreal, QC - Metropolis
6 - Toronto, ON - Sound Academy
7 - Columbus, OH - The LC Pavilion
9 - Waterloo, IA - McElroy Auditorium
10 - Council Bluffs, IA - Mid America Center
11 - Springfield, MO - Shrine Mosque
13 - Fargo, ND - The Venue
14 - St. Paul, MN - Myth
16 - Plymouth, MI - Compuware Sports Arena
17 - Ft. Wayne, IN - Piere's
18 - Chicago, IL - Riviera Theatre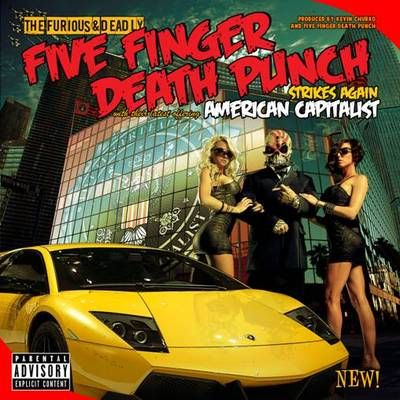 Five Finger Death Punch released their new album, American Capitalist, on October 11th. The album has charted at #3 on the Billboard Top 200 chart in the US, selling 90,509 copies in its first week, making it the band's strongest debut yet. In Canada, American Capitalist lands at #6 on the album charts.