GUNS N' ROSES, BLACK SABBATH Members Comment On Loss Of GARY MOORE
February 7, 2011, 11 years ago
GUNS N' ROSES guitarist Ron "Bumblefoot" Thal, BLACK SABBATH/HEAVEN AND HELL guitarist Tony Iommi have issued the following statements in reaction to the tragic death of legendary guitarist GARY MOORE (ex-THIN LIZZY):
Bumblefoot: "Gary Moore gave a lifetime of music to the world, such a great guitarist. He was like *the* rock guitarist, the guy that had the best of everything in his playing - and that could only come from having the best of everything in his heart. To his family, you have my deepest sympathies, the love and support of millions of fans, all wishing you strength in this difficult time."
Tony Iommi: "So sad to hear about Gary Moore, a truly great player lost. My sympathies go out to his family."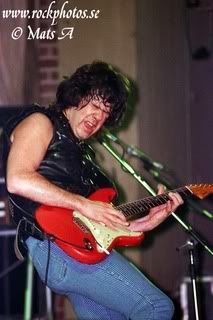 According to The Sun, the 58-year-old Moore was discovered just before 4am by his girlfriend, unconscious in their Spanish hotel room in Estepona, Spain yesterday (February 6th). He choked on his vomit after knocking back champagne and brandy. Medics found him lying lifeless on his back wearing just his underpants.
An ambulance source said: "We believe the deceased had been drinking heavily."
A source at The Kempinski hotel on Spain's Costa del Sol - where suites cost up to £3,500 a night - said: "There were definite signs of alcohol in the room.
"His girlfriend was very distraught, in floods of tears."
In a career dating back to the 1960s, Moore played with artists including Phil Lynott and Brian Downey as early as his secondary school days, leading him to membership with the Irish rock band Thin Lizzy on three separate occasions. Moore shared the stage with such blues and rock luminaries as B.B. KING, ALBERT KING, COLOSSEUM II, GREG LAKE and SKID ROW (not to be confused with the glam metal band of the same name), as well as having a successful solo career.
Moore collaborated with a broad range of artists including GEORGE HARRISON, TRILOK GURTU, DR. STRANGELY STRANGE, COLOSSEUM II, ALBERT COLLINS, JIMMY NAIL, MO FOSTER, GINGER BAKER, JACK BRUCE, JIM CAPALDI, VICKI BROWN, COZY POWELL, THE BEACH BOYS, OZZY OSBOURNE and ANDREW LLOYD WEBBER on the composer's Variations (album) in 1977. He experimented with many musical genres, including rock, jazz, blues, country, electric blues, hard rock and heavy metal, according to Wikipedia.