KISS's GENE SIMMONS - "Did I Discover VAN HALEN? Nah"; New Eddie Van Halen Photo Book Quotes Available
September 21, 2011, 12 years ago
GENE SIMMONS and PAUL STANLEY from KISS contributed to two coffee table photo books, Van Halen and Eddie Van Halen, both published by legendary rock photographer Neil Zlozower.
The VAN HALEN News Desk has the exclusive on both quotes.
Says Gene Simmons: "Once upon a time, when it meant something to be a rock star and groupies prided themselves on whom they had spent the night with, I was invited to the Starwood Club in L.A. to see a band called THE BOYZ. I took Bebe Buell, she of Playboy/Liv Tyler/etc. fame, and sat next to Rodney Bingenheimer, king of the L.A. nightlife, and waited for the opening band to come on.
"Life is what happens to you when you least expect it. I saw Van Halen. I was stunned. They killed.
"Within two songs I was waiting for them backstage and immediately offered to sign them and take them into the studio. It seems there was a — I kid you not — yogurt manufacturer who was waiting to finance the band. I begged them not to do that. And, in a short time, I flew them to New York, signed them to my Man Of 1,000 Faces production company and took them into Electric Ladyland Studios to do a thirteen-song demo. I also bought Dave some platform shoes and leather pants.
"I took the demo and showed it to the rest of the KISSers and Bill Aucoin, our then-manager. No one got it. I was shocked. I gave the demo back to the band, told them I had a tour to go on and afterward I would try to get them a record deal, but until then, I tore up our contract and set them free. It didn't take them long to get on Warner Bros.
"Did I discover Van Halen? Nah... I was there. I saw. I knew. I am a fan."

Read more at this location.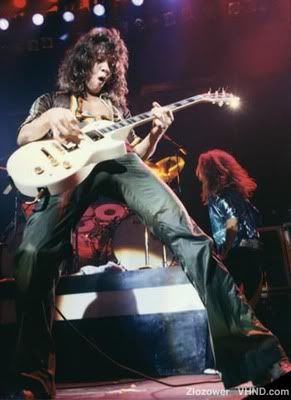 Neil Zlozower's second Van Halen hardcover coffee table photo book, Eddie Van Halen, is to be released on October 12th.
LITA FORD (THE RUNAWAYS) contributed to the upcoming book, and Van Halen News Desk has the exclusive on Lita's quote in the book. An excerpt follows:
"We all know EVH is the Les Paul of today's world. We all know Edward changed the face of rock 'n' roll. But it's the person that he truly is that makes him so unique. He is an inspiration to every musician, because we all wanna be him, and some of us try real hard, but the reality of it is that there is only ONE Edward Van Halen!!! PERIOD!"
Read more at this location.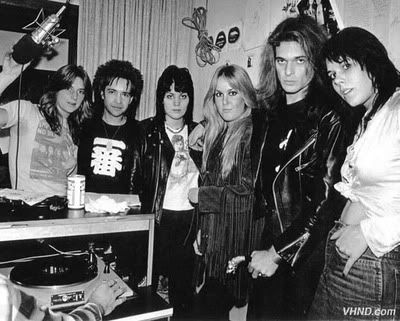 Once again Van Halen Store is the exclusive retailer of autographed copies of the new book, signed by the author himself, at no additional charge. Pre-orders are underway, so order now to reserve your signed copy of this amazing collectible.
Book details:
The definitive visual history of early Eddie Van Halen! This hardcover photo book is jam packed with classic and never before published photos! A must have for Van Halen fans and guitarists alike!
One of the most revolutionary and influential players ever to pick up a guitar, Eddie Van Halen's music and technique continue to energize legions of fans and guitarists around the world. This book of photographs and text focuses on the innovative early years of the band Van Halen, when Eddie burst on the scene and changed the face of electric guitar-playing and melodic hard rock. More than 200 images of Eddie in action - both classic and never before seen - are complemented by text and testimony from famous guitarists, music writers, and many others. Also featuring a foreword by guitar legend SLASH, this is the definitive visual history of classic Eddie Van Halen.
Famous guitarists who contributed text: Angus Young (AC/DC), Jimmy Page (LED ZEPPELIN), Joe Perry (AEROSMITH), LES PAUL, STEVE VAI, JOE SATRIANI, Nuno Bettencourt (EXTREME), RITCHIE BLACKMORE, GILBY CLARKE, Phil Collen (DEF LEPPARD), Billy Gibbons (ZZ TOP), PETER FRAMPTON, PAUL GILBERT, ALLAN HOLDSWORTH, Scott Ian (ANTHRAX), Tony Iommi (BLACK SABBATH), STEVE LUKATHER, Mick Mars (MÖTLEY CRÜE), RONNIE MONTROSE, GARY MOORE, TOM MORELLO, DAVE NAVARRO, Rick Nielsen (CHEAP TRICK), TED NUGENT, PAUL STANLEY (KISS), Nancy Wilson (HEART), Zakk Wylde (BLACK LABEL SOCIETY), DWEEZIL ZAPPA, and many others.
Van Halen insiders who contributed text: Eddie Anderson (director of security 1980-84), Pete Angelus (creative consultant, production/lighting designer), Marshall Berle (personal manager 1977-78), Bill Gazzarri (owner: Gazzarri's nighclub), Michael Karlin (Van Halen business manager, 1978-present), Jas Obrecht (editor: Guitar Player magazine), Patrick Whitley (production manager 1978-84) and Michael Anthony.
Neil Zlozower's rock photography spans more than 40 years and includes work with THE ROLLING STONES, Ted Nugent, Aerosmith, AC/DC, MOTÖRHEAD, TOM WAITS, SLIPKNOT, and many others. From 1978 to 1984, Zlozower was the "fifth member of Van Halen," touring with and capturing images of the band during the DAVID LEE ROTH era.
Hardcover, 176 pages, 8.5 x 11 inches, Over 200 color and b/w photographs.
Click here to pre-order your autographed copy today.